Nominations are still open for the Hawkesbury Local Business Awards until the 22nd of August, 2023.
The Awards aim to celebrate and support Hawkesbury businesses and their services and products. The announcement of the winners will be on the 25th of October, to be held at the Hawkesbury Race Club.
There are 32 categories, three of which are the Major Awards, namely the Business Person of the Year, Youth Award, and Business of the Year. The Industry Categories are:
Agricultural Business; Antiques, Art, Craft, and Gifts; Automotive Services; Bakery/Cake Business; Beauty Services; Café; Early Childhood Centre; Fashion; Fastfood/Takeaway; Fitness Services; Florist; Fruit & Vegetable Shop; Hairdresser; Health Improvement Services; Home Furniture/Electrical; Hotel/Bottle Shop/Bar; Access and Inclusion Award; New Business; Performing Arts; Pet Care; Pharmacy; Professional Services; Real Estate Agency; Restaurant; Sole Operator; Specialised Business; Specialised Retail Business; Tourism & Accommodation; and Trade Services/Hardware.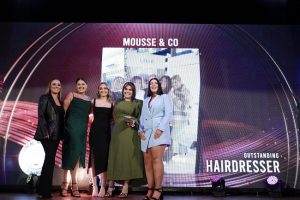 Mousse & Co. bagged the Business of the Year and the Outstanding Hairdresser Business at the 2022 Hawkesbury Local Business Awards.
The Windsor-based Mousse & Co. was the 2022 Business of the Year, which also won under the Hairdresser category, whilst Karen Lebsanft from the Kurrajong Kitchen Group received the Business Person of the Year, and Taylor Lang from Karu Distillery won the Youth Award in the previous year's Awards.
Interested businesses can register theirs via the Hawkesbury Local Business Awards website. The Precedent Productions Pty Ltd will lead the event, while the Hawkesbury City Council is one of the Awards' major partners and sponsors.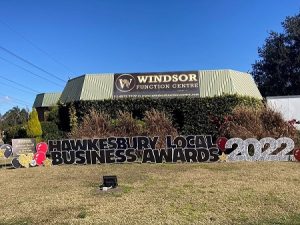 Windsor Function Centre, the venue of the previous Awards.