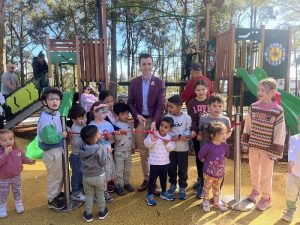 The Withers Road Reserve located at North Kellyville officially opened on Saturday, 19 August 2023.
Mayor of the Hills Shire Council, Dr Peter Gangemi, launched the new park with a ribbon-cutting ceremony attended by over a hundred Hills Shire community members. The Community Foundation Of North Western Sydney provided free coffee, cupcakes, gelato, and face painting for the first 300 people.
The reserve's playground is suitable for all ages and abilities. Play equipment includes swings, slides, decks, springs, and interactive play activities for the kids, while protected by shade sails. In addition, there is a basketball half-court, a turf kickabout area, and concrete pathways.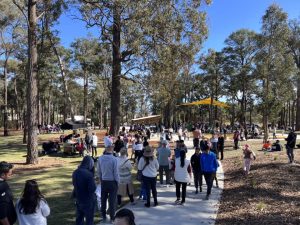 The Withers Road Reserve is designed with a natural theme, featuring native trees and vegetation throughout the area. Much of the previous vegetation was retained and transformed into a green space, now a significant part of the reserve's parkland design.
The Mayor mentioned in a Facebook post that launching the new park with the community's younger generations was an absolute privilege.
"It is a top priority of Council to deliver parks, sports fields and road upgrades faster to our growing population and I couldn't be prouder that we have done that for our wonderful North Kellyville residents at Withers Road Reserve," the Mayor wrote.
Councillors Mitchell Blue, Frank de Masi, and Jessica Brazier, along with Federal Member for Mitchell Alex Hawke MP and State Member for Castle Hill Mark Hodges MP, attended the park opening.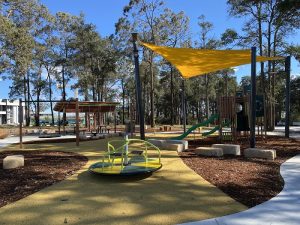 In March 2022, the Hills Shire Council conducted a feedback survey on the proposed design of Withers Road Reserve. The survey revealed that many people were in favour of the half-court basketball court and the shade sails.
The Council explained that water play is only available at the district or higher-level parks. However, the Bernie Mullane Sports Complex has a large water play area at Livvi's Place All-Access Playground.
In February 2023, Civilscape Pty Ltd was awarded the construction tender. Construction started in March of the same year and was expected to finish by August.