A new three-lane boat ramp at Wisemans Ferry has been launched, following the devastation of two major flood events in 2022.
Project-managed by Hornsby Shire Council and co-funded by The Hills Shire Council and the NSW Government, the new boat ramp is complemented by a new pontoon, a new car park with 163 bays for vehicles and boat trailers and 29 bays for single vehicles, and a new amenities block.
Hornsby Mayor Philip Ruddock said that Hornsby Shire Council was delighted to join forces with the project partners to provide this much needed facility for the benefit of the local community.
"We're very excited to launch this highlyanticipated new state of the art facility at Wisemans Ferry. We thank The Hills Shire Council and the NSW Government for their support in this important project which will provide safe and easy access to the water and an improved experience for all.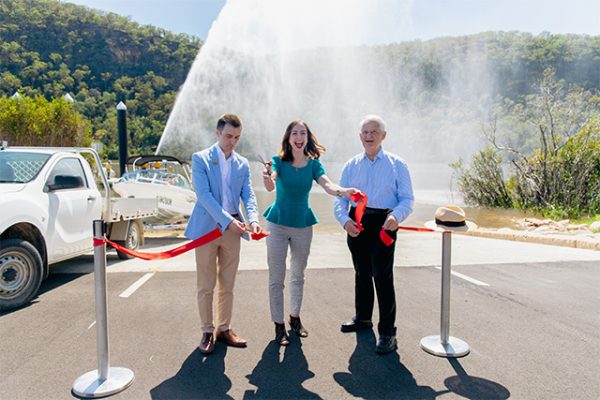 We hope that the new facilities become a symbol of hope and renewal for the people of Wisemans Ferry who have endured so much over the past few years."
Hills Shire Mayor Dr Peter Gangemi said the new boat ramp would increase tourism as the region recovers from the floods.
"This is an outstanding example of the two councils and the NSW Government working together for residents and visitors to our Shires. It will be a boost to tourism for the region and will be a valuable facility for a multitude of recreational watercraft.
"It will complement private ramps located upstream from the ferry cables and will relieve pressure on other ramps located downstream," he said.
Hornsby Shire Council also secured NSW Government funding to construct a new playground, which is now open, as well as a walking trail and village green which will be built this year. NSW Maritime Executive Director Mark Hutchings said it was great to see the project, which was part of the NSW Government's Boating Now program, come to fruition.
"The Boating Now program, now in its fourth round, has invested in about 330 projects since it began in 2014, providing funding to improve maritime infrastructure and facilities across NSW," he said.
For information about the new facilities at Wisemans Ferry visit https://www.hornsby.nsw. gov.au/wisemans-ferry