[vc_row][vc_column width="1/6″ offset="vc_col-lg-1/5 vc_col-md-1/5 vc_col-xs-1/5″][us_image image="67173″ size="thumbnail" align="left" style="circle" has_ratio="1″][/vc_column][vc_column width="1/12″ offset="vc_col-lg-4/5 vc_col-md-4/5 vc_col-xs-4/5″][vc_column_text]By
Bev Jordan
[/vc_column_text][us_post_date][/vc_column][/vc_row][vc_row][vc_column][vc_column_text]
This Sunday Windsor Landmarks (December 18th) the bells at St Matthew's Anglican Church Windsor will ring out 200 times at 10.30am to mark the bicentennial of its Consecration by Rev Samuel Marsden.
Both St Matthew's and the historic Windsor Court House were designed by former convict Francis Greenway and are still operating as they were intended, 200 years on.
Attorney General Mark Speakman described the 200-year commemoration of Windsor Court as a milestone event.
"This building has stood in the centre of the Windsor township for 200 years, as the focal point for the administration of justice in the Hawkesbury valley," he said.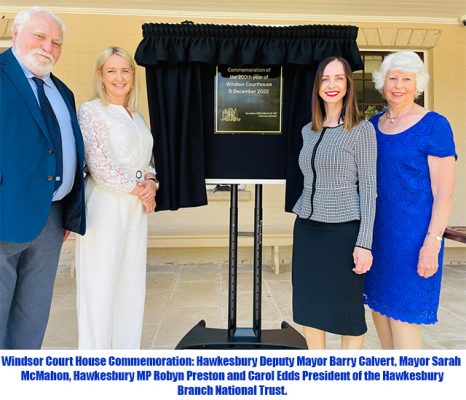 "When this building first opened in 1822, convicts were still being transported to Australia and Governor Lachlan Macquarie had not long returned to Scotland."
He said the Government was committed to ensuring the courthouse remained fit for purpose and retained its historic character.
Member for Hawkesbury Robyn Preston said the courthouse has been upgraded over the years to meet modern justice needs.
"Most recently, the NSW Government has completed upgrades to the existing safe room and remote witness room to help empower domestic and sexual violence survivors and vulnerable witnesses to give their best evidence in court. Additional restoration and landscaping works to preserve the building's unique heritage have also been carried out over the past month," Ms Preston said.
Hawkesbury Mayor Sarah McMahon said it had been a historic week for the area with the 200th milestones for both St Matthew's Anglican Church Windsor and the Windsor Courthouse.
"It is not widely known that the Hawkesbury was actually the third colonial settlement of Australia, after Sydney Cove and then Parramatta, in 1794 (although discovered earlier). That is why we have centuries old buildings, steeped in history and local significance," she said on social media.
"There are not many other places in Australia that have what we have – and as its current custodians, it is our duty to honour, commemorate and to share, so that future generations may be lucky enough to celebrate their 300th and 400th anniversaries." Windsor Court House was commissioned by Governor Macquarie, designed by Francis Greenway, and built by William Cox, using convict labour.
William Cox was also responsible for construction of the road from Sydney to Bathurst and St Matthew's Anglican Church in Windsor.
Francis Greenway had the first building started on the site of St Matthew's torn down part way through construction because he said the work was of inferior quality. He sacked the original builder Henry Kitchen and the rejected bricks were used to build a wall next to the Macquarie Arms hotel in Windsor.
Greenway designed a totally new structure for St Mattew's and oversaw the stonemasons and construction workers.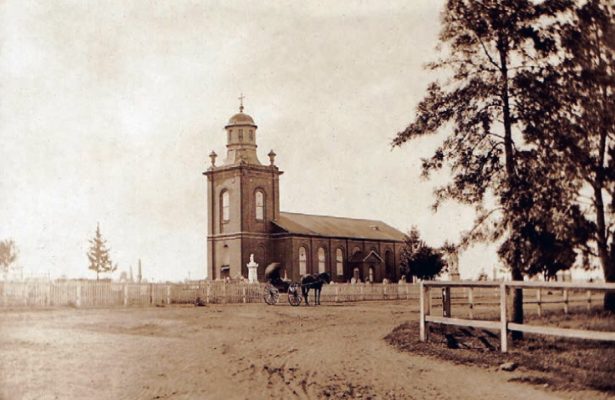 [/vc_column_text][/vc_column][/vc_row]