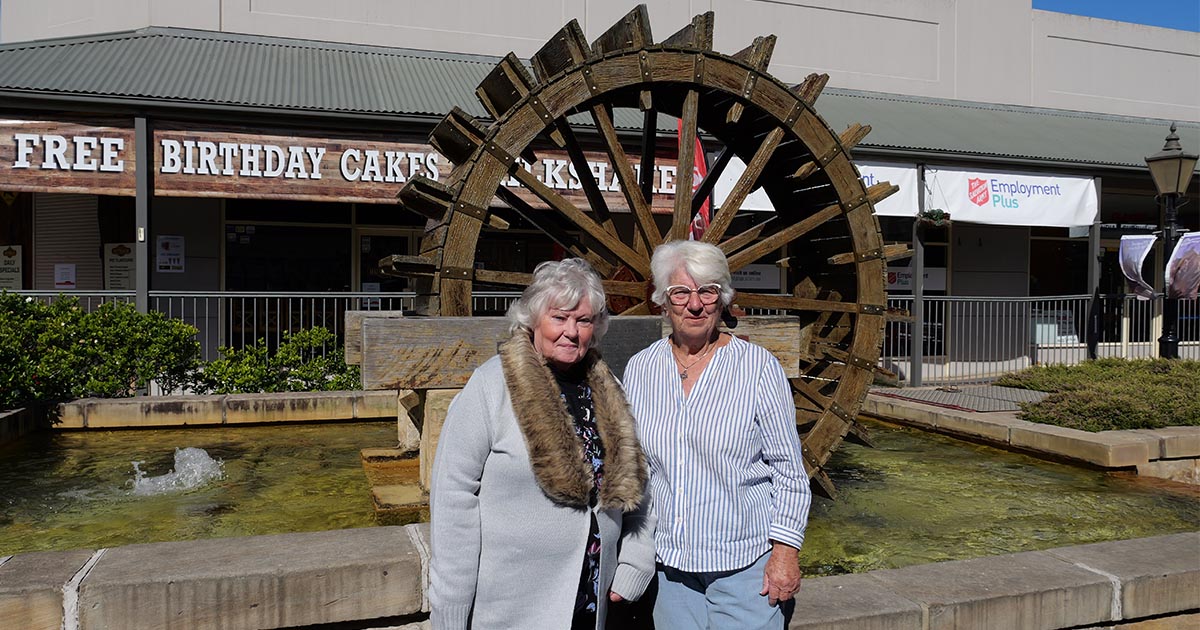 The formation of a business action group in Windsor is ensuring that the historical George Street Mall will keep its heritage atmosphere.
The Windsor Experience Action Group was formed after last month's Hawkesbury Council meeting due to concerns about the quality of community consultation on the planned upgrades of the Mall. Though initially labelled a minority group, the collective has grown to 91 members strong, all their members being business owners who stretch from Thompson Square to Windsor Station.
The Group was founded by Gae Kelly, Wendy Sledge and Darren Pead; they say the rapid growth of the group shows communitywide interest in what happens to the George Street Mall. Gae, formerly a business owner in the Mall and a long-time Hawkesbury resident, says: "Now that we've jumped up and down and been such a non-minority group, they're going to have to listen to us."
Changes to the Mall have been a point of contention in the community for years. Initially, the gas lamps were going to be moved to the sides, and features like the Water Wheel would have been relocated. Additionally, much of the heritage brickwork that lines the Mall and Windsor at large would have been replaced with paving that lacked historical character.
Former Hawkesbury Mayor Wendy Sledge was deeply opposed to the recommendations. "It was going to look much more like any other shopping centre you want to go to, but it wasn't going to reflect what we want in the Hawkesbury."
"What we want is for people to be able to meander through the Mall – we don't want it like a 10 pin bowling alley, where people race in one end and out the other," Gae added. "We want people to shop here, and to stimulate businesses."
The birth of the Windsor Experience Action Group was a result of Hawkesbury Council's April 18th meeting. The three founders say that business owners in Windsor had not been properly consulted about the plans in years. This was why they began the Action Group: to create a platform for these key members of the Windsor community to have their voices heard.
The Action Group isn't just about preserving the Windsor Mall, though. The group meets weekly to discuss the latest developments on the Mall, tackling everything from the concerns of individual members to group branding and community efforts. Each week, a variety of new ideas are presented to not only preserve Windsor, but enhance it.
One such project is the planting of daffodils around town, spearheaded by Ben Woodbury, the owner of the antique and gift shop Manor on George. The flowers will be planted in the sandstone garden beds going down to the river to make the path a colourful attraction in Windsor. It's one of many plans devised by the group to make Windsor an attractive tourist spot outside of special events such as markets or public holidays.
Hawkesbury Mayor Sarah McMahon, who has attended a number of the group's meetings, applauds the effort of Windsor Experience Action Group for their commitment to Windsor and the preservation of its Mall. She told Hills to Hawkesbury Community News that "as Mayor, it has been a pleasure to work with them to achieve an outcome that satisfies their needs and hopefully leaves a long term legacy for our historic and iconic Windsor."
Other members of Hawkesbury Council have also been receptive to Windsor Experience Action Group's concerns, according to Gae. Councillors Les Sheather and Shane Djuric have long been sympathetic to the concerns about the changing Mall, having been a constant presence at the Group's meetings and taking their feedback directly to Council. Les is proud to be part of the Action Group, insisting that "we can only get it right if the community is behind us."
Gae, Wendy and the rest of the Windsor Experience Action Group are pleased with the current progress of the Windsor Mall plans as they continue to advocate for the preservation of the town's history. Wendy says: "There aren't too many places with the sort of heritage that we have. It's too easy to modernise. We just want it to be enhanced and enjoyed."
To stay updated on the Group's activity, or information about joining, follow the 'I Love Windsor' Facebook page: https://www.facebook.com/ilovewindsor