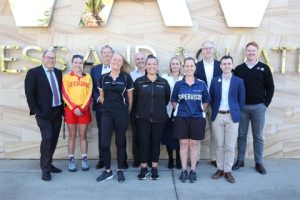 Waves Fitness and Aquatic Centre staff
The Waves Fitness and Aquatic Centre at Baulkham Hills received acknowledgment as "one of the most inclusive and accessible community facilities in the country," according to the Hills Shire Council on the 12th of June 2023.
As per their media release, "The Baulkham Hills aquatic centre beat out 24 other nominations nationwide to secure the number one spot in the Cohesive Communities Category at the National Awards for Local Government on Monday."
Mayor of The Hills Shire, Dr Peter Gangemi said he was proud to see The Hills Shire Council's hard work reflected in this award win.
"[Waves Fitness and Aquatic Centre] is one of the highest quality aquatic facilities in the country, and our builders, designers, contractors and Council staff have done a fantastic job at creating a versatile centre that caters to all abilities," Mayor Gangemi said.
General Manager of The Hills Shire Council, Michael Edgar said the redevelopment was a defining project for the organisation.
"This project says a lot about our organisation and the collective men and women who serve our residents. It also says a lot about the professionalism and ability of our builders and other project partners that made this project happen well within its allocated budget despite the wet weather, the COVID-19 pandemic and all of the supply chain disruptions that had to be overcome," Mr Edgar said.
"This award is a fitting tribute to the facility and the people involved in making it happen."
The new centre includes an outdoor FINA Standard Olympic-sized 50-metre pool with 10 lanes, a 25-metre outdoor training pool, an indoor 25-metre and family leisure pool, a 20-metre warm water program pool, a sauna, spa pool, steam room and 1000 square metre fitness centre.
To read the Council's full media release about the Waves Fitness and Aquatic Centre, refer here: Waves makes a big splash at National Awards.
Image credit to the Hills Shire Council.