All
Community News
Water Campaign
Dr Kim Loo | Chairperson of Hills Doctors' Association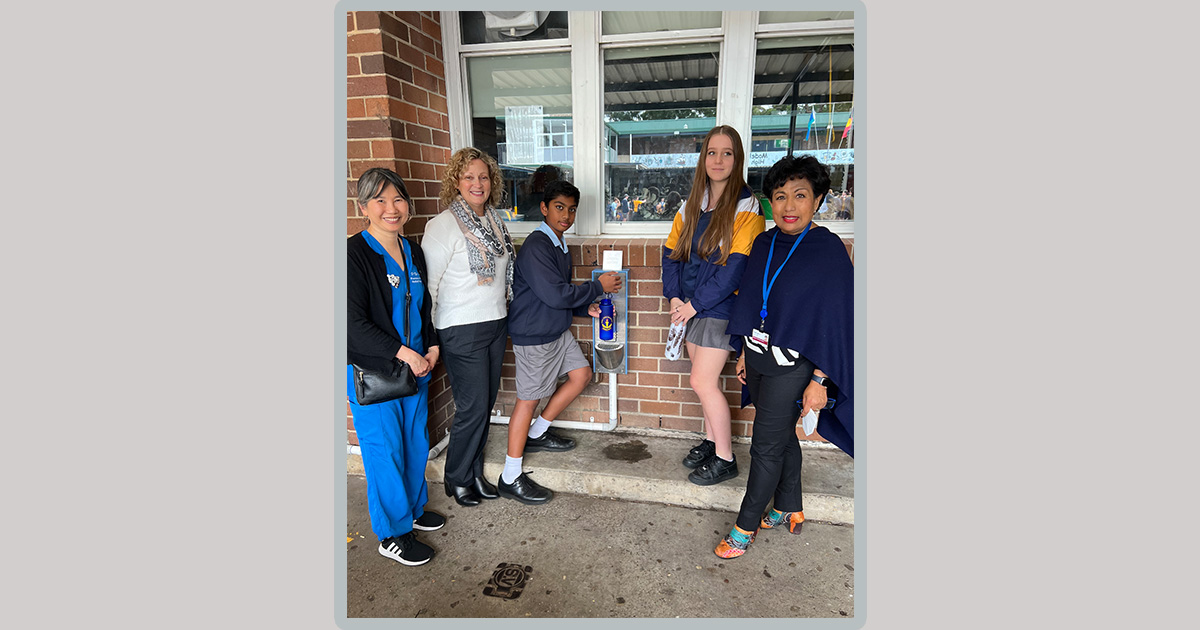 Model Farms High School at Baulkham Hills is taking a step towards a healthier future and reducing its environmental impact, thanks to a collaborative effort between the Western Sydney Local Health District (WSLHD), local doctors, and the school community.
A generous donation from the Hills Doctors' Associations combined with a contribution from the school made it possible to purchase and install a water refill station at the school.
This inspiring initiative was spearheaded by a group of local high school students who actively participated in WSLHD's peer-led health leadership programs called Students As Lifestyle Activists (SALSA) and SALSA Youth Voices, both of which are delivered by the Prevention Education and Research Unit (PERU).
Youth-led initiatives like this play a pivotal role in creating positive change in our communities. The SALSA program focuses on empowering students to increase physical activity and improve their diet whilst building their health literacy skills to make informed choices that will benefit them throughout their lives.
One of the pressing issues facing Australia today is plastic waste, and sugary bottled drinks contribute significantly to this problem. Moreover, these drinks are often linked to the onset of various diseases within our community, with approximately 85% of adults suffering from chronic illnesses.
By providing accessible and free water refill stations, the school community not only encourages students to make healthier choices but also reduces single-use plastic waste. This highlights the importance of sustainability and the role each individual can play in creating a greener future.
Professor Smita Shah OAM, Model Farms High School Principal Kerrie Kennon, DeputyPrincipal Rebecca Smith, and two inspiring students, Sophie Wilson and Niruban Ravimohan were at the launch of the water refill stations at Model Farms High School.
Professor Smita Shah remarked "The collaboration between the WSLHD, doctors'; associations, and local high schools exemplifies the power of community partnerships in addressing pressing health and environmental issues. It is a testament to the dedication and passion of our youth, who are leading the way towards positive change."
Thanks to the unwavering commitment of local doctors, educators, and students, Model Farms High School and its partner schools are now equipped with the necessary infrastructure to promote hydration and sustainability. Their collective efforts remind us that small actions can make a big difference.
Let us celebrate this significant achievement and look forward to more initiatives that empower our youth towards a sustainable future.
For more information about the program visit https://peru-programs.sydney.edu.au/