WaterNSW have advised that following rainfall across Sydney's water supply catchments in the last 24 hours, Warragamba Dam will increase spill through the crest gates.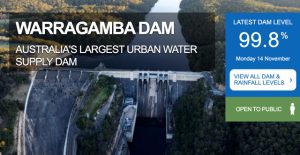 The outflow from the dam is forecast to peak between 25 and 35 gigalitres per day in the next 24 hours.
As per the Hawkesbury Flood Unit website this morning these are the current river levels.

River users should refer to the Bureau of Meteorology (BOM) website for other river heights, weather forecasts  and warnings.