Charlotte Hussein of William Clarke College is keen to make the most of her second appearance at the National All Schools Triathlon Championships in Tasmania next week.
The State Team Time Trial cycling record holder will represent NSW at the Devonport event on March 13, buoyed by her success at the 2023 NSW All Schools Triathlon Championships at the International Regatta Centre, Penrith, late last month.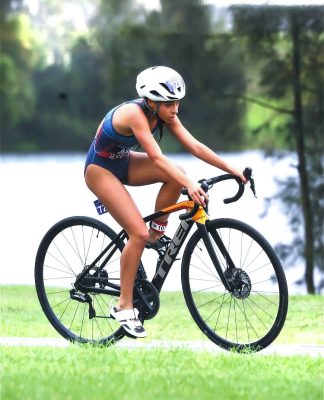 Charlotte, 13, a top gymnast before changing sports, won a gold and silver All Schools medal as well as two Gold CIS medals during a hectic weekend of competition against some of the best young triathletes in the state. The competition brought together more than 1190 NSW Secondary School students from the public, Catholic (CCC), and Independent (CIS) streams.
"This is the best result I have achieved so far," a jubilant Charlotte said. "I am really happy it happened at this event as this is one of the hardest events that happen each year. Athletes come from all over NSW to race in this event, and you never really know who you will race and how fast the race will be.
The competitions determine the NSW School State Champions as well as the NSW Stream Champions (public, CCC, CIS).
Charlotte competed in the junior race (12-14 years) which included a 400m swim, 10km bike, and 2km run. Charlotte was runner-up here to capture an All Schools Silver Medal and a CIS Gold.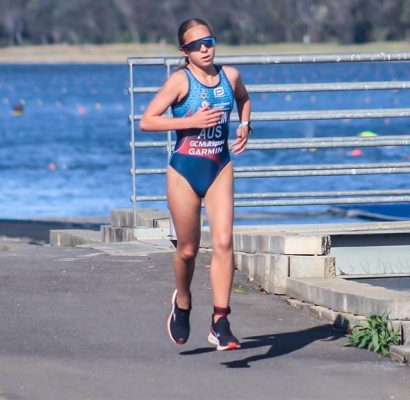 She then competed in the relay event on her cycle with teammates Ruby Carter (swim) and Charlotte Scott-Rogers (run). The trio set such a scorching pace they finished a massive two minutes ahead of the runners-up to scoop up All Schools and CIS gold medals.
"The toughest part of this race is the swim for sure, having so many girls starting the race side by side in the water is tough," Charlotte said. "There is lots of rough contact at the beginning and then the swim is 400m long which is a long way to go in open water.
"I train with WSAS Academy monthly, our group of athletes and academy coaches focus on skill improvement and safety, mostly on the bike. I love these sessions because I get to see many of the athletes I normally only see at races. Dayto- day, my home coach, Guy Creber, manages my training, we do group sessions in Camden weekly and I train with my friend in the Hills District."