According to a report by The Hills Police Area Command:
"It is reported that at 4 AM on Tuesday 30th May 2023 two trail bikes have ridden out onto Windsor Road from Annangrove Rd in front of a semi-trailer.
One of the […] riders was run over however miraculously survived – having not been wearing a helmet or protective guards. The other trail bike rider left the scene. The driver of the truck has been taken to hospital for mandatory testing.
The rider conveyed to Westmead in a serious but stable condition. Anyone with information about the other rider and please call Crime Stoppers NSW on 1800333000. Riverstone Police Area Command"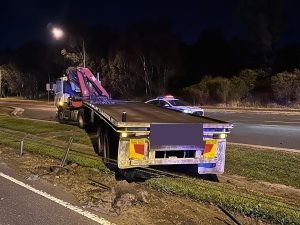 Image credit to The Hills Police Area Command.