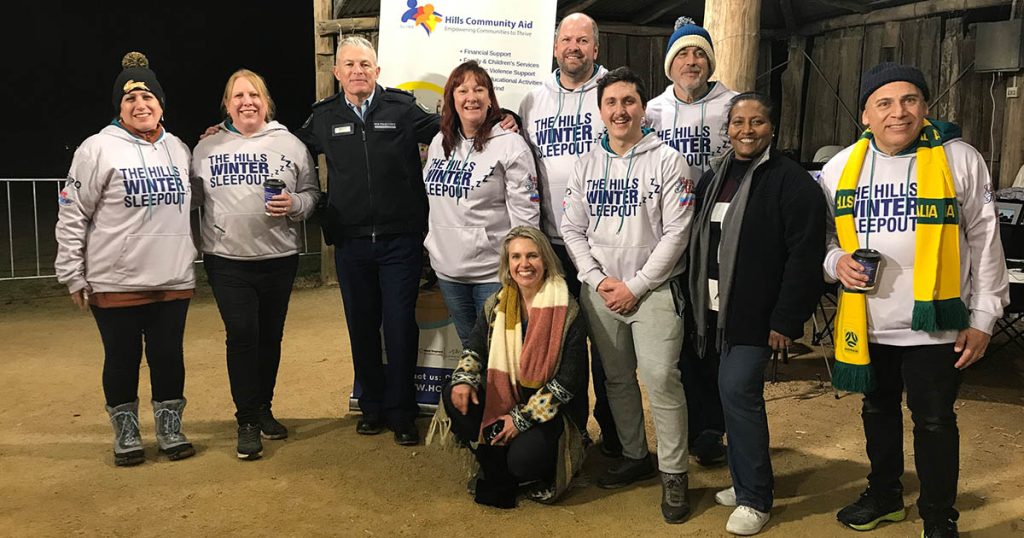 It wasn't as cold as it has been before but it was wet when over 90 people gathered at Bella Vista Farm at the weekend to participate in the 10th Hills Winter Sleepout.
This year the event raised a record-breaking $61,180 with money still being raised until the end of the month.
The funds raised will be used by HCA's Homelessness Initiative and StreetMed which provides street level first aid and a food service to the homeless.
Founder of the Hills Winter Sleepout Dr Michelle Byrne told attendees that a growing number of people in the Hills were homeless and many were hidden because they were couch surfing or sleeping in cars.
"On the night of the 2021 census 206 people in the Hills Local Government Area were homeless. Specialist homelessness services client data for the same period showed that the number of homeless people in the Hills was a lot higher. Of those 27.7% of those found to be homeless were children and youth under the age of 19 and 19% of those homeless were over the age of 55. Remarkably, 34.5 of those homeless were employed but still couldn't afford to keep a roof over their heads."
She said people were homeless for many reasons including severe financial crisis, job loss, leaving home because of domestic violence, mental health issues and cost of living.
Mici Beer, executive officer at Hills Community Aid said an average of 80 new clients a month were being seen through HCA's Emergency Relief funding. "(These are) people who have never had to ask for assistance for food before, people who are working but are now classified as the working poor."
In the 2023 Financial year HCA received 6,027 calls from people seeking financial help.
Dave and Rachal, vendors of The Big Issue, spoke about how selling the magazine had transformed their lives.
The social enterprise gives homeless people the chance to help themselves by buying a magazine at cost price and selling it to the public on the street.
Rachel said having her own little business selling The Big Issue had returned her name to her and given herself confidence and a chance to connect with the community.
"I was just a number before."