Sydney Zoo, found in Bungaribee Park, near Eastern Creek forms part of the Western Sydney Parklands and is only a stone's throw away from the Hills and Hawkesbury LGAs.
Officially opened in 2019, Sydney Zoo is home to over 4000 animals including exotic animals like lions, hyenas, apes and baboons as well as Australian species including wombats, koalas and kangaroos. It also contains the Word's largest Reptile and Nocturnal House and is the only Zoo in NSW that also contains an aquarium.
Sydney Zoo, although not as large as other Zoos has no steep hills or steps making it easily one of the most accessible visitor attractions for both wheelchair users and prams. The Zoo is divided into different zones including Africa, South East Asia, Australia, Primates, Reptiles & nocturnal and the Aquarium.
You can take a walk along the boardwalk overlooking the animals of Africa including the giraffes, zebras, hyenas as well as the lions as they sit on pride rock or take a stroll down Primate Boulevard and watch the baboons chase after each other as well as the Tufted Capuchin playing in their tree house. For us our animal highlights were seeing the crocodile up close and watching him open and shut his eyes as well as seeing the koalas eating and the penguins playing.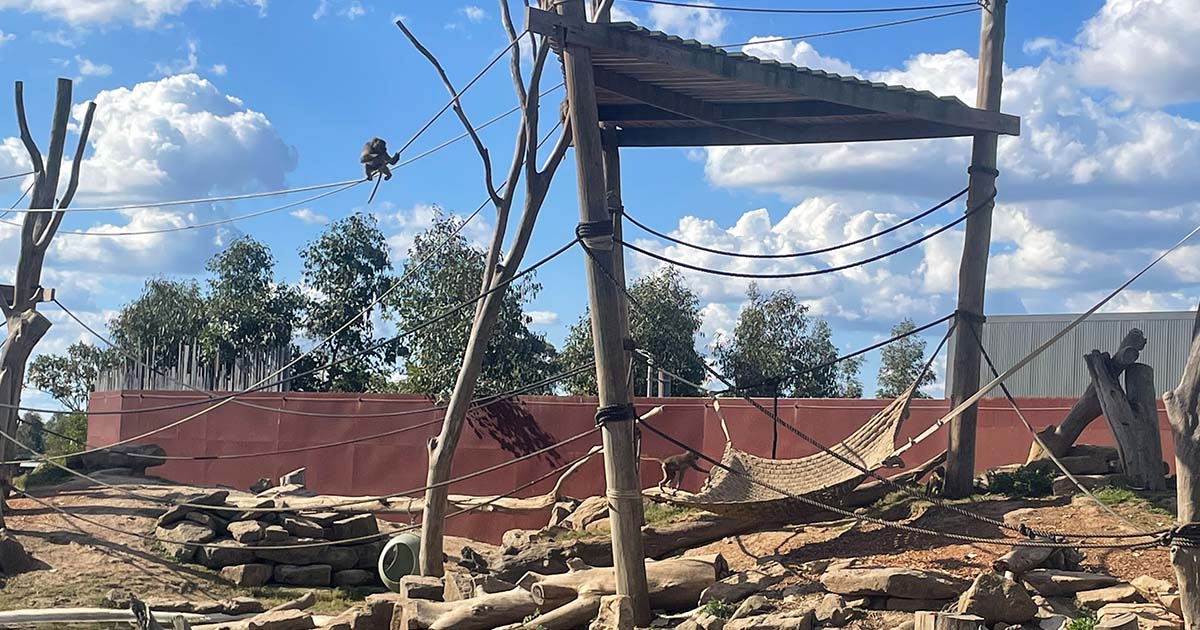 Sydney Zoo is education and conservation oriented, providing an opportunity for visitors to learn about the animals and the threats to them in the wild. There are daily talks from the Zoo keepers as well as animal encounters for hands on experiences with the animals as well as a mini Zookeeper program for 8-12 year olds.
Sydney Zoo also goes beyond this and runs programs such as the schools challenge that encourages schools to collect old phones to recycle in order to save the great Apes in Asia whose biggest threat is the destruction of their habitat as result of mining of minerals such as coltan, a metallic ore used in mobile phones and other electronic devices. Last year Rouse Hill Primary and Caddies Creek Primary were two of the winners of this competition. Sydney Zoo also has developed the Koala Schools project to educate the next generation about bushfires and the impact on local wildlife and in particular Koalas.
There are plenty of cafes available onsite as well as picnic areas to enjoy a bite to eat including near the kids zone which contains a large sandpit and an opportunity to dig for buried dinosaur bones. We also enjoyed a ride on the 7News Ferris Wheel overlooking the Sydney Zoo and beyond.
For us it was the perfect afternoon out and with unlimited tickets that allows 12 month's worth of entry we have already been a couple more times! For more information on Sydney Zoo go to https://sydneyzoo.com