All
Playground
St Albans Park: Discover Hawkesbury's Playgrounds & Recreations
The park features plenty of play opportunities from swings to interactive learning panels.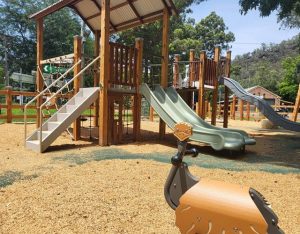 ---
St Albans Park and its children's playground offer a variety of play units and plenty of areas for active kids.
The play space is open to all ages, has over 40 activities, and can accommodate around 80 people. The playground is composed of a climbing fort with slides, swings with a nest swing, rockers, an obstacle course, voice tubes, puzzles and a roundabout.
Wood benches and stone sitting are available in the area.
In June 2021, the St Albans community voted on three playground design options. The voting closed on 20 June 2021. The community chose Option 1. 
The Council opened the new playground to the St Albans community on 11 April 2023.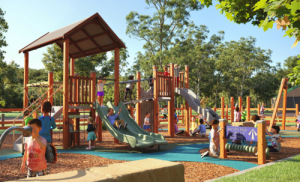 Option 1 from the 2021 design survey.
The $150,000 budget for the current playground in the Park was derived from the $1.68 million funding allocated to the Hawkesbury City Council for projects and bushfire recovery in Bilpin, Colo Heights and Macdonald Valley Community Project (including St Albans). The Council received this funding from the Commonwealth and NSW Government's Bushfire Local Economic Recovery Fund.
St Albans Park is located in St Albans, NSW.
Image credit to Hawkesbury City Council.