[vc_row][vc_column width="1/6″][us_image image="68668″ size="full" align="left" style="circle"][/vc_column][vc_column width="1/6″ offset="vc_col-lg-4/5 vc_col-md-4/5 vc_col-xs-4/5″][vc_column_text]By
Michelle Byrne
[/vc_column_text][us_post_date][/vc_column][/vc_row][vc_row][vc_column][vc_column_text]Soroptimist International, founded in 1911, is a global movement consisting of 72,000 volunteers in 121 countries. Here in the Hills, the Hills Soroptimist International ("HillsSI") have been advocating for women and girls locally and globally for over 40 years.
The word Soroptimist is a combination of two latin words; "Soro" meaning sister and "optima" meaning best and together translates as "best for women". This meaning reflects the mission of Soroptimist International to transform the lives of women individually and collectively through empowerment, education and opportunities and ensuring all women and girls achieve their full potential, realise dreams and aspirations and have an equal voice in their communities globally.
The HillsSI organise important community initiatives such as the youth public speaking competitions, homelessness and Domestic Violence forums, fundraising activities such as the fashion parade as well as participate in events such as the Hills Winter Sleep and the Hills Relay for Life.
A key date in the HillsSI calendar is International Women's Day ("IWD") which falls on March 8 each year. IWD means different things to different people but for Cathy Tracey, President of the HillsSI and passionate advocate for women and girls, "It's the International day of recognising women's cultural, political, economic and social achievements as well as marking a day of action towards gender "equity" and also an opportunity to fund raise for charities such as ours, who seek positive change in advancing the rights of women and girls through education and empowerment" she said.
In order to recognise the importance of IWD the HillsSI organises a breakfast with inspirational speakers and entertainment. This year's guest speaker is Rosanna Barbero CEO of the Addison Community Centre which runs an array of human rights & food relief, arts & culture and sustainability programs. Rosana has decades of global experience working across aid and development in women's rights, human rights and environmental justice. Aarya Sambyal, a Year 12 student from Castle Hill High and Mia Fogolin, a Year 11 student from OLMC will share their perspectives on IWD. This year's theme is #EmbraceEquality and President Cathy Tracey is encouraging everyone to come along regardless of gender and share in an incredible morning celebrating the achievements of women.
"Our event is special as it is aimed at raising awareness and igniting interest in issues affecting women and girls in our region. It's an opportunity to be with like-minded people, relax whilst breakfast is served and listen to our guest speaker, Rosanna Barbero CEO of Addi Road Community and our two talented students from local High Schools. We also have a raffle with some great prizes." President Cathy Tracey said.
This year's event will be on 10 March, at the Rydges Hotel Norwest commencing at 6:45am for a 7am start. To book tickets go to http://events.humanitix.com/international-women-s-daybreakfast- embraceequity.
The HillsSI meet on the third Wednesday of the month at Crestwood Community Centre, Baulkham Hills at 7pm and anyone wanting to learn to more about the Club is welcome to attend.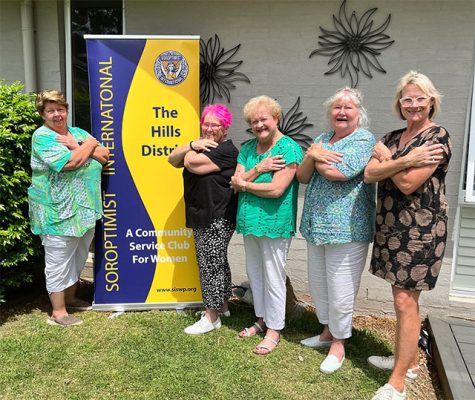 [/vc_column_text][/vc_column][/vc_row]