[vc_row][vc_column width="1/6″][us_image image="68668″ size="full" align="left" style="circle"][/vc_column][vc_column width="1/6″ offset="vc_col-lg-4/5 vc_col-md-4/5 vc_col-xs-4/5″][vc_column_text]By
Michelle Byrne
[/vc_column_text][us_post_date][/vc_column][/vc_row][vc_row][vc_column][vc_column_text]Mental health is something we don't talk about enough. We will happily talk about our physical health to others but when it comes to our mental health, we are less likely to talk about it.
Yet according to the ABS in the 2020-2021 reporting period more than 2 out of 5 Australians between the ages of 16 to 85 had experienced a mental disorder at some point in their lifetime.
Mental health disorders are not uncommon, and the reality is by ignoring our own mental health it may lead to the development of mental Soroptimist International of the Hills – IWD Breakfast 2023 Soroptimist International, founded in 1911, is a global movement consisting of 72,000 volunteers in 121 countries. Here in the Hills, the Hills Soroptimist International ("HillsSI") have been advocating for women and girls locally and globally for over 40 years. illnesses and other health problems. As a community we need to talk about mental health more, we need to ensure we find ways to look after our own mental health as well as finding ways to support those around us struggling with mental illness.
It is for these reasons plus the fact it is a fun day out for families that we attend the annual Pawsitive Steps event. The event also aims to raise awareness of the importance of good mental health, to get help if needed, as well as further breaking down the stigma that exists around mental illness.
Pawsitive Steps is organised by the Mind Connections Foundation. However, the precursor to Pawsitive Steps was a mental health awareness walk called 5000 steps which took place at Crestwood Reserve in 2011 and provided participants with information on mental health as well as an opportunity to engage and connect with others. It was the beginning of an important dialogue in the Hills around mental health.
Since then, the event has grown and evolved to what it is today with entertainment including a DJ, activities and exercise for dogs and dog owners, as well as face painting and balloons for the kids, a BBQ and plenty of giveaways.
Dr Padmini Howpage, President of the Mind Connections Foundation who has been instrumental in increasing awareness of mental health in the Hills over the past decade or so encourages everyone to be part of this year's Pawsitive Steps event.
"Pawsitive Steps is a wonderful event aimed at bringing our community together, educating ourselves about the importance of pursuing good mental health whilst having fun with our dogs, friends and families. I encourage everyone to attend whether you own a dog or not" Dr Padmini Howpage said.
The inspiration for including dogs in the event came from the Howpage's own Dog, Coco who was the source of much joy and comfort during Dr Howpage's daughter's cancer journey.
"We know the importance of the link between pets and mental health and for our family Coco has been a blessing. Coco is full of energy, never stays still and gets into lots of mischief but we wouldn't have it any other way" Dr Padmini Howpage said.
This year's Pawsitive Steps event will be held on Sunday 5 March 2023 at Rouse Hill Town Centre from 10am to 3pm.
For more information on the Mind Connections Foundation and Pawsitive Steps go to https://mindconnectionsshs.com.au/mind-connections-foundation/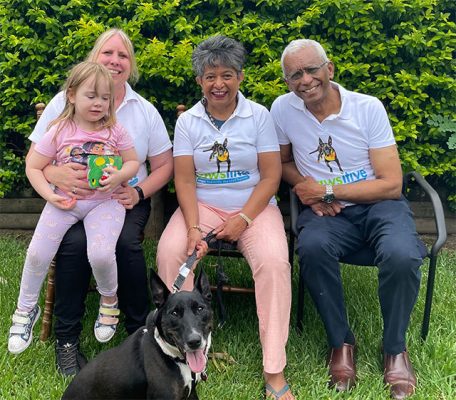 [/vc_column_text][/vc_column][/vc_row]