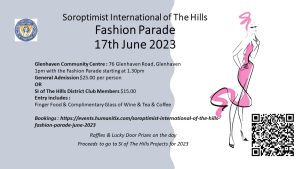 The Soroptimist International (SI) The Hills district is organizing an upcoming fashion parade on the 17th of June, 2023.
Stanford Fashions, alongside Black Pepper, Yvonne Black, Knitwear by Jump Unique and et cetera will be present, according to the SI Fashion Parade event description.
The event will have finger food and complimentary drinks and beverages such as tea, coffee, and wine.
The Fashion Parade will last from 1.00 pm to 4.00 pm AEST and will be held at Glenhaven Community Centre, located at 76 Glenhaven Road.
Regular tickets cost $25.00 AUD while Soroptimist International Club members can purchase with a 40% discount at $15.00 AUD. Ticket reservations can be booked here: Soroptimist International The Hills – Fashion Parade
Meanwhile, SI of The Hills district will accept donations of beanies, blankets, and "new warm socks & gloves", as part of the group's current goal of giving families "winter warmers," from May to June 2023.
They shared contact details on their Facebook post today, 18th of May, 2023:
Jan: 0439 417 576 or
Lesley: 0412 454 728 or
Leanne: 0404 934 469
For further details regarding the Fashion Parade 2023, visit here: Soroptimist International The Hills – Fashion Parade
Source: Soroptimist International The Hills
Image sourced from Soroptimist International The Hills