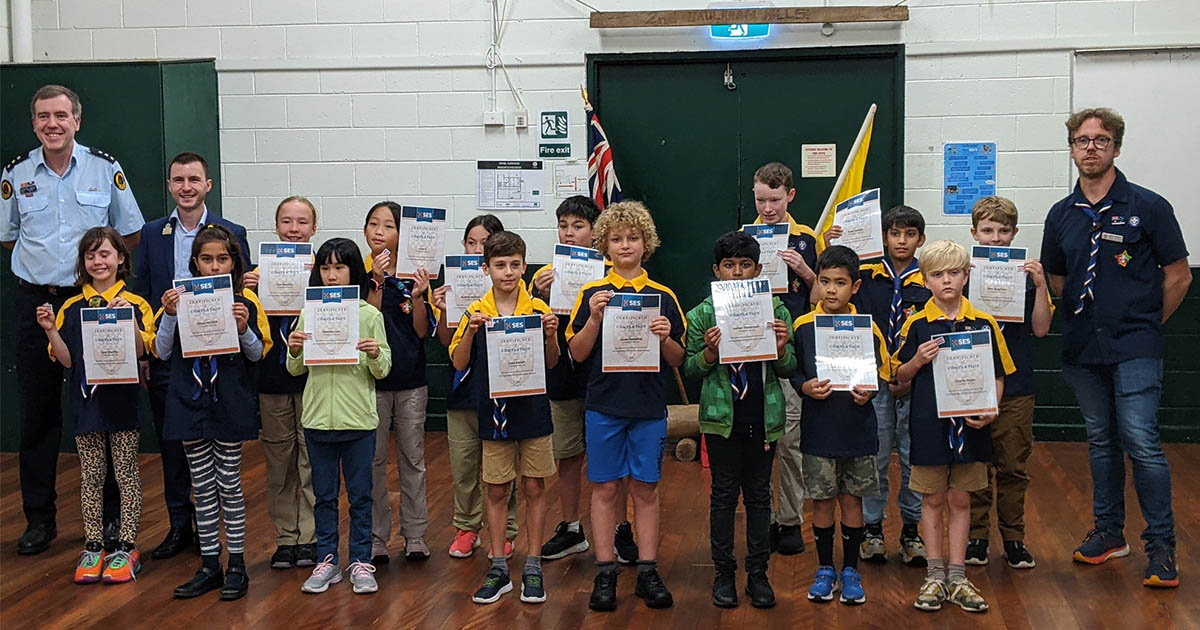 The 2nd Baulkham Hills Cub Scouts recently completed an 'emergency' themed program, which saw them attend interactive sessions with local police, Fire & Rescue, St John Ambulance, Rural Fire Service (RFS) and State Emergency Service (SES).
Cubs gained insightful knowledge of what each agency does, including how to get assistance through 000, online safety, scam awareness, fire prevention, and using defibrillators and EpiPens.
Cubs also participated in the Scouts SES Awareness Program. This valuable program is designed to build confident and resilient youth through knowledge of how to prepare for and minimise damage from storms and floods.
The Hills SES Unit Commander Daniel McGovern said that the course teaches scouting youth about what the NSW SES does, storm preparation and readiness, preparing a home emergency kit, as well as learning how to tie proper knots.
Cubs also completed a building project using various hand tools and participated in a search and rescue scenario requiring leadership, teamwork, analytical thinking, problem-solving and basic first aid. "The program is available for all Scouting sections – from Joeys (5 years) to Rovers (25 years)
Mr McGovern said: "I enjoyed delivering this program and watching each Scout develop confidence and leadership skills.
Fifteen Cubs completed the program and were awarded their uniform badges by Hills Shire Mayor Dr Peter Gangemi who said he was delighted to congratulate all the Scouts who had completed the beneficial program.
"The Hills is the most beautiful place on the planet; however, this comes along with the risk of storms, bushfires and floods," he said.
"It is incredible to see our next generation possessing such high-level knowledge on how to prepare for and act during natural disasters and emergency situations.
"I hope that this wonderful training program continues in the future and inspires a new generation of local volunteer heroes."
For information on joining 2nd Baulkham Hills Scouts, please email [email protected]
For information on joining the NSW SES, please visit https://www.ses.nsw.gov.au/get-involved/volunteer/.
For assistance in storm, flood or tsunami, call NSW SES on 132 500