[vc_row][vc_column width="1/6″][us_image image="67175″ size="full" align="left" style="circle"][/vc_column][vc_column width="1/6″ offset="vc_col-lg-4/5 vc_col-md-4/5 vc_col-xs-4/5″][vc_column_text]By
Ivor Jones
[/vc_column_text][us_post_date][/vc_column][/vc_row][vc_row][vc_column][vc_column_text]
SHORT STORY OF SCISSORS JOHN
Many older Aussies would recall the master of the scissors cutting out silhouettes. That man was Sebastian John Ross who was seen at agricultural shows around the country and at places such as Luna Park.
Known as just S. John Ross, he was born in America and served in the US Army during WW2 in the Philippines and Australia. Whilst in Sydney he met and married his wife, Florence Phyllis Counsell (known as Phyllis). They married in February 1945. He took her with him back to the US but after just a short time they returned to Australia in 1946 where they lived at Falcon St, Hazelbrook. He then started to embark on his travels to various shows setting up a small booth at the shows displaying silhouettes he had created of famous people He had learnt his trade back in the US in the 1930s from silhouette artist Budd-Jack.
I first came across him in the 1960's when he cut my silhouette. I cannot recall exactly where but it may have been at either Sydney Town Hall or the Trocadero in George Street, Sydney. He had performed his trade at numerous locations such as Centrepoint Tower (now Sydney Tower) and for quite a while at Sydney's Luna Park as well as the aforementioned agricultural shows. He was quick and prolific with his creations. He also created silhouettes of our daughters. He worked quickly with a pair of small scissors, cutting portraits from thin matt black card. He usually concentrated on the profile of a sitter but would also enhance the portrait by snipping out a few details. Each portrait was mounted on a white card. The likenesses were remarkable, so that it was easy to recognise the famous faces that were on display. He claimed that not everyone's face was suitable for profile portraits and that he was selective as to whom he would portray.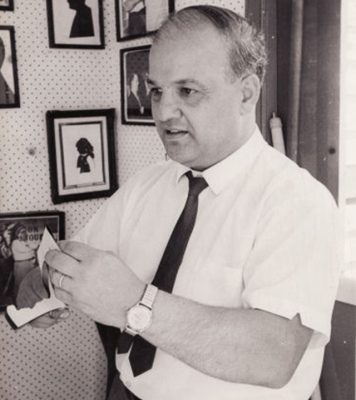 During his lifetime he created tens of thousands of portraits during his 60 year long career and Vivian Leigh, Franklin D. Roosevelt, Nicole Kidman, Sir Robert Menzies and Queen Elizabeth II are among his famous sitters. Before he joined the US Army, he also worked in Hollywood where he created silhouettes of some of his early celebrity 'cuts' including Stan Laurel, Al Jolson, Spencer Tracey and Mickey Rooney. During his war years, whilst he was working with General Douglas MacArthur he continued his "hobby" of creating silhouettes and created silhouettes of MacArthur and celebrity entertainers such as Bob Hope.
John was held in high regard by all in the Australian Show Society, being given many Show legend awards. When receiving one of these awards John always said jokingly that he would "rather be a live legend than a dead one". He also claimed that only the Australian Taxation Office knew what the "S" in his name stood for. He was sometimes referred to as Scissors John.
Ross Eastgate, a military historian and journalist, said of Ross that "He was not tall in stature, but he was a giant in Australian entertainment."
In August 2008, S. John Ross did not attend the Brisbane Ekka as usual. John had previously taken ill at Cairns during his annual northern Queensland show tour and returned to Sydney where he was rushed to Westmead Hospital. Sadly, after some four weeks in hospital, S John Ross passed away on Sunday August 24, 2008 with his wife Phyllis (1918-2011) and younger son Philip present. John was aged 89.[/vc_column_text][/vc_column][/vc_row]