Rouse Hill, 17th November – The Rouse Hill community has welcomed a cutting-edge healthcare facility, SWIFT Emergency and Urgent Care.
This newly opened Specialist Walk-In Fast Track Emergency and Urgent Care centre is situated just a short stroll from the Town Centre and is conveniently accessible via the Metro line and bus services, promising swift care for all non-lifethreatening medical emergencies from 10am to 10pm.
SWIFT operates on a Level 1 Urgent Care model, led by emergency staff specialists and nurses with extensive experience in managing both adult and paediatric emergencies. SWIFT is committed to seeing patients within 30 minutes, an approach that allows for efficient and focused care, sparing patients the long waits typically associated with busy emergency departments.
Equipped with the latest medical technology, SWIFT hosts on-site radiology services, including CT scans, Ultrasound, and MRI, available until 9 pm. It also offers comprehensive pathology services to promptly investigate, treat, and manage a broad spectrum of medical complaints.
The facility is capable at managing various medical and surgical cases, from sports injuries, sprains, and dislocations to minor head injuries and other non-life-threatening medical emergencies. Whether it's applying plaster casts to acute fractures or monitoring cardiac conditions with their five cardiac monitored beds, the facility is well-prepared to address a range of health concerns.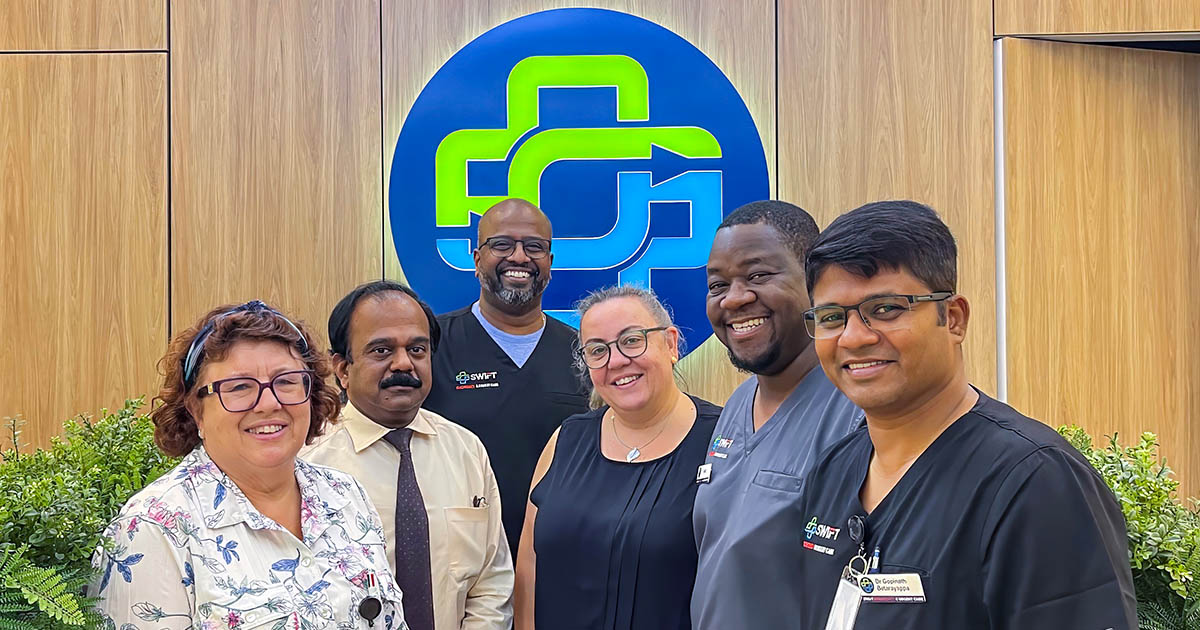 SWIFT is equipped to treat a variety of paediatric conditions, such as minor injuries, lacerations, abrasions, as well as common childhood illnesses like chest infections, gastroenteritis, and rashes. With the support of on-site paediatric specialists, SWIFT's emergency physicians ensure that the unique medical requirements of children are met with the utmost care and expertise. The medical care team is trained to reduce anxiety and discomfort for children during medical procedures, including minor sedation, making SWIFT a reliable and welcoming place for parents seeking urgent medical attention for their kids.
More than just an urgent care facility, SWIFT also offers specialized services in orthopaedics, paediatrics, cardiology, dental care, and physiotherapy. Additionally, SWIFT provides support to the community with a specialist falls clinic for recurrent falls and syncope and a rapidaccess infusion clinic for iron and zoledronic acid in a closely monitored environment.
In cases requiring hospitalization, such as surgical conditions like appendicitis, SWIFT will coordinate a seamless transfer to both private and public hospitals for further treatment, bypassing busy emergency departments.
As a Level 1 Urgent Care Centre, SWIFT is well-positioned to support the rapidly growing Hills district and surrounding areas, while it awaits the development of the Rouse Hill Public Hospital. This innovative health service is set to change the way urgent medical care is delivered in Rouse Hill, offering a new beacon of hope for fast and efficient medical attention.