Hills Shire Council has received $2.49 million for road safety projects under the Federal Government's Black Spot Program for 2023/2024 and further $1.88m under the Local Road and Community Infrastructure (LRCI) program.
The majority of the Black Spot Program money _ a massive $1.9m, will be spent on Annangrove Rd, between Edwards Road and Kenthurst Road.
The Black Spot Funding also includes $380,000 worth of works for Langford Road/Davey Road, Dural and $210,000 on improvements to Sanctuary Drive, Rouse Hill between Caddies Boulevard and Grandiflora Street.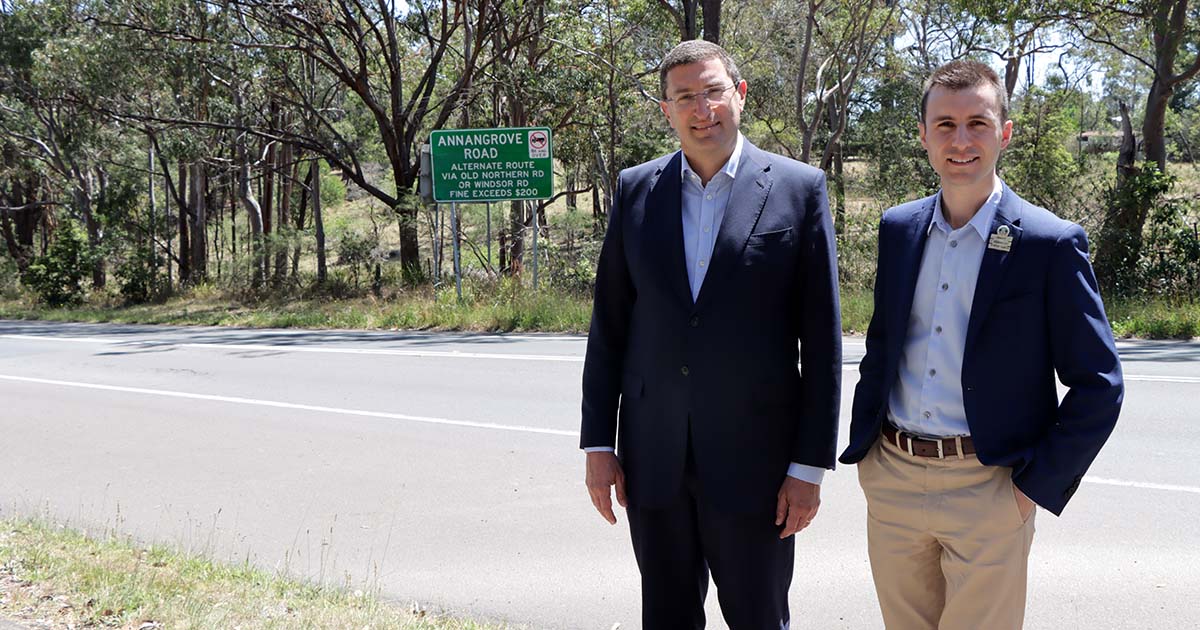 The $1.88 million Phase 4 LRCI funding announced on Thursday (November 17th) will fast-track 18 infrastructure projects.
Of that amount $689,142 has been allocated specifically for road projects. This funding will be used to improve Chapel Hill Road, Sackville North and River Road, Lower Portland/Leets Vale, which were damaged during the March and July 2022 floods.
Hills Mayor Dr Peter Gangemi said he was pleased that all the projects that Hills Shire Council recommended for the LRCI Phase 4 Program will receive funding.
"I'm looking forward to seeing these projects come to fruition, particularly the proposed improvements to Chapel Hill Road and River Road, which were decimated by the 2022 floods."
Other projects to win funding include:
$240,000 to construct two additional netball courts with lighting at Kellyville Netball Complex, North Kellyville
$175,000 for a new dog offleash facility and pathway at Colbarra Place Reserve, West Pennant Hills
$150,000 to replace worn turf area between Field 1 and amenities at Bernie Mullane Sports Complex, Kellyville
$130,000 to renew the ball stop fencing at Kenthurst Park, Kenthurst.
$100,000 to construct a new playground at Kellyville Park, Kellyville
$75,000 for new drainage for Field 4 at Crestwood Reserve, Baulkham Hills
$60,000 to replace worn turf area between Fields 1 and 2 and amenities at Caddies Creek Sports Complex, Beaumont Hills
$45,000 to install pedestrian safety fencings outside Excelsior Public School at Elberta Avenue, Castle Hill
$40,000 to install new pathway bollard lighting at Ironbark Ridge Reserve, Rouse Hill
$35,000 to renew the cricket wicket on Field 6 at Fred Caterson Reserve, Castle Hill
$30,000 to install two basketball rings and line marking at Arnold Avenue Reserve, Kellyville
$30,000 to install two basketball rings and linemarking at Coolong Reserve, Castle Hill
$29,271 to remove vegetation from around pedestrian and road bridges at various locations
$20,000 to upgrade the water play pump at Heritage Park, Castle Hill
$20,000 upgrade of cricket training nets at Arnold Avenue Reserve, Kellyville
$15,000 to construct a new footpath at Ensign Place, Castle Hill Works are expected to commence on these projects in 2024.
For more information about these projects, visit www.thehills.nsw.gov.au and search for 'Council Works & Projects.'