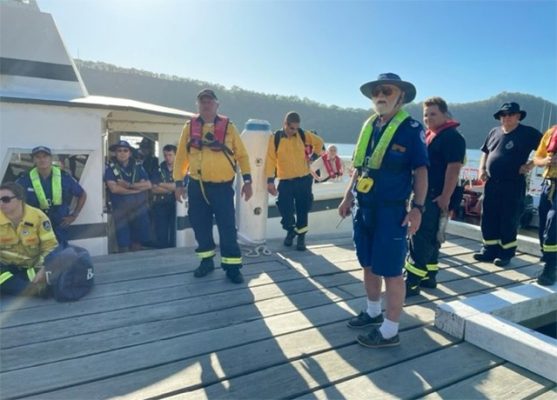 16 Marine Rescue NSW volunteers from the Hawkesbury and Cottage Point units have taken part in a joint Search and Rescue training exercise with multiple NSW Rural Fire Service brigades around Milson Island on the Hawkesbury River.
The exercise saw MRNSW crews conduct search pattern training and rescue methods for a simulated person missing in the water.
The MRNSW crews onboard HW 30, HW 22, CP 30 and CP 31 also took part in a simulated ferry fire involving multiple casualties requiring first aid and transporting.
Marine Rescue NSW Hawkesbury Unit Commander Peter Moore said joint operations are held regularly so agencies are familiar with processes during emergency responses.
"The exercise was a great success. Marine Rescue showed the RFS ways to conduct search patterns while our crews got a better understanding of their vessels and how to transfer patients if required during an emergency situation," Mr Moore said.
The Hawkesbury Unit Commander said cross-agency training exercises are invaluable. "Because there are several hundred homes in the area that don't have road access, we share a numbering system among multiple agencies which enables us to act quickly in the event of an emergency.
"We look forward to more joint training exercises and value our relationship with the RFS," Mr Moore said. For more information, please call Travis Winks MRNSW Media and Publications Manager on 0419 126 891.