Hills United men's and women's teams are setting impressive standards in their respective NSW football competitions.
The Hills United Men's League One side, coached by Luke Casserly, is enjoying a strong start to their season with five wins, one draw and one loss after seven rounds. Last Saturday, they defeated Northern Tigers 1-0 on Saturday, thanks to a 13th-minute goal by Cameron Philp in their seventh round clash.
Their only loss has come at the hands of Inter Lions FC on February 28, when they went down 2-1. Hills United's strikers have been on song with scores of 4-1 against Central Coast United, 3-2 over SD Raiders, 3-0 past Rydalmere Lions, and 3-2 against Dunbar Rovers. They lie second in the standings behind St George on goal difference with both clubs having 16 points apiece.
Their under-20 team has also had an impressive run in their seven matches, which is a positive sign for the club's youth division. They have won out of seven and are third off the pace.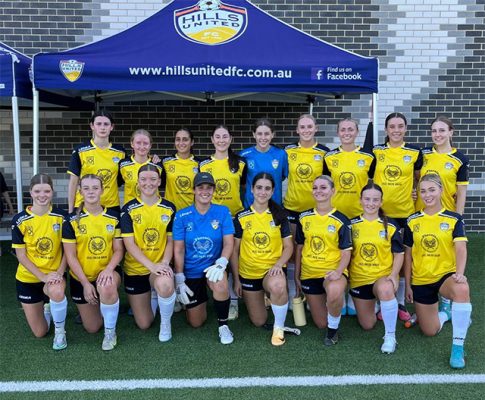 The Hills women's League One team are continuing where they left off last season when they narrowly lost the grand final by a solitary goal. In their opening match, Hills United, coached by Allan Tasses, hammered seven goals past hapless South Coast Flame who scored just one in reply.
Imogen Lane led the way with a hat-trick after the flood gates were opened by Stefanie Trovato just before half-time. Isabella Sciberras, Bella Donaldson and Bianca Galayini were others who found the net for Hills.
In their second game last Sunday at their Bella Vista Public School ground, Hills were held to a 2-2 draw by UNSW FC. Isabella Sciberras fired in a brace within five minutes to give Hills United a 2-1 lead until the 86th minute when UNSW equalised.
Hills United (4) are second on the ladder after two rounds, behind Central Coast Mariners (6).
BOOST FOR GLENHAVEN FC
Meanwhile, Glenhaven FC, which belongs to the Hills Football Association, will be able to upgrade their home ground thanks to a $90,000 grant from the NSW Government's Football Legacy Fund. The Hills Shire Council is to add $200,000 towards the project at Glenhaven Oval to upgrade its lighting.
Glenhaven FC president Bill Kafkis said that planning for growth and demand is key to their club's strategy. "The upgrading of our venue is crucial for the unprecedented growth that will come out of the FIFA Women's World Cup (to be hosted by Australia in July)," he said.