[vc_row][vc_column width="1/6″ offset="vc_col-lg-1/5 vc_col-md-1/5 vc_col-xs-1/5″][us_image image="67173″ size="thumbnail" align="left" style="circle" has_ratio="1″][/vc_column][vc_column width="1/12″ offset="vc_col-lg-4/5 vc_col-md-4/5 vc_col-xs-4/5″][vc_column_text]By
Bev Jordan
[/vc_column_text][us_post_date][/vc_column][/vc_row][vc_row][vc_column][vc_column_text]
A mammoth $27,289 was raised by volunteers for the Cancer Council at Castle Towers in December in 19 days of Christmas wrapping leading up to Christmas Eve.
Hills Relay For Life volunteer Ruth Didsbury who co-ordinated the wrap said they were overjoyed by the result which was more than 25% higher than last year's record-breaking figure.
More than 100 people gave up their time to support the wrapping station over the 205 hours that it was operating.
Ruth thanked Castle Towers Management who donated the quality paper and ribbons for the annual Christmas wrap, the shoppers who had their gifts wrapped and donated to the Cancer Council and the volunteers who made the wrap possible.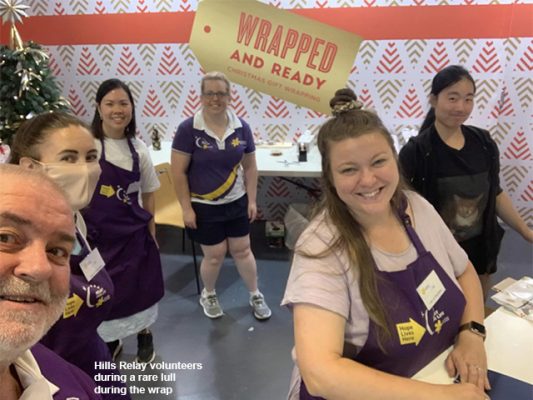 "If it wasn't for the volunteers we couldn't have reached this amazing total," she said.
"Our volunteers included a number of Castle Hill High students, we also had a couple of men who volunteered to Christmas wrap, some mother and daughter teams and grandparents.
"Quite a few people actually sought us out to have their presents wrapped as they appreciated the wrapping last year and thought it was a wonderful idea plus such a great cause.
"Some people, who were in a position to do so, gave very generous donations which was, greatly appreciated."
Volunteers had wrapping skills tested with Katanas (swords), several unicorns and dinosaurs, bonsai plants and fishing rods plus numerous hard-to disguise sports equipment.
The Christmas Wrapping at Castle Towers is organised by the Hills Relay For Life, a Hillsbased community organising committee which raises funds for the Cancer Council NSW.
The 2023 Hills Relay For Life will be held at Castle Hill Showground on Saturday May 20th from 9am. The 24-hour event raises funds for Cancer Council research and support programs.
This year's Hills Relay will be the 22nd in the Hills.
To register a team in the Hills Relay visit www.relayforlife.org.au/event/view/hills-2023. For further details email [email protected] or phone 9354 2078. Individual registration is $15 until February 9th.[/vc_column_text][/vc_column][/vc_row]