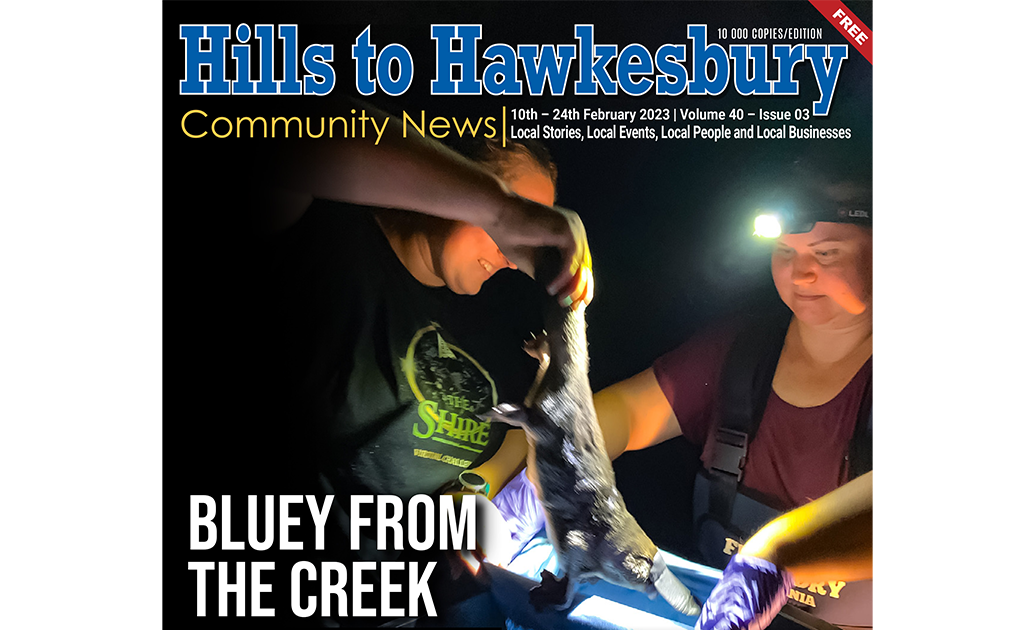 BLUEY the shy platypus from Cattai Creek is having to get used to the spotlight during August, Platypus month, with a series of events being held to celebrate the discovery of a local platypus population in the creek earlier this year.
As the Hills to Hawkesbury Community News reported in February the healthy monotreme was found by Dr Michelle Ryan, Senior Lecturer Ecology and Environmental Science from the School of Science, Western Sydney University and PhD candidate Katherine Warwick (pictured) close to midnight the day after Australia Day.
He was measured, weighed and given a quick health check, which he passed with flying colours. He was then tagged and released back into Cattai Creek. Dr Ryan said the tagging is vital for research: "This is important so we can see how platypus use the creek system and we can monitor their health.
"So far, the platypus captured have been in good condition. This is telling us that there is a good food source for the platypus in the creek. Platypus eat waterbugs and waterbugs are a great indicator of water quality, but more work needs to be undertaken." The study will continue over the next three years.
CHEN (Cattai Hills Environment Network) and Dr Ryan have been investigating the platypus population in the Cattai and Little Cattai Creek Catchments for the past four years looking at environmental DNA (eDNA) in water samples taken at a number of sites at different times throughout the catchment.
"Sample analysis has shown that platypus are present in Cattai Creek and use the entire length of Cattai Creek, from Castle Hill to Cattai. Platypus are also present in many of the creeks and tributaries of Cattai Creek," said Dr Ryan. "It is important that we all do our part to protect platypuses and ensure they remain in the waterways of The Hills for generations to come."
Hills Shire Mayor, Dr Peter Gangemi said: "Finding platypus living in The Hills, especially the urban parts, is truly amazing."
Hills Shire Council has teamed up with the Cattai Hills Environment Network (CHEN), to bring residents a series of FREE workshops about the platypus.