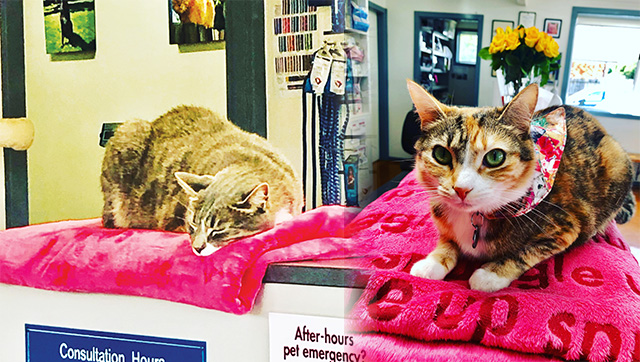 Welcome to your new monthly feature where we spotlight pets at work in the local community. Nev the Newshound aka "Scoop Dog" is a Rov(er)ing reporter who sniffs out the best animal 'tails' in the area.
This month we meet working cats, Kosci and Dot of Glenorie Vets.
SO WHAT IS YOUR ROLE HERE AT GLENORIE VETS?
Childrens' entertainer and chill out specialists.
HOW LONG HAVE YOU BOTH WORKED HERE?
Kosci: 4 years
Dot: 3 years
WHAT IS THE BEST PART OF THE JOB?
Sneaking into the storeroom and opening bags of food
to eat and sleeping on the job.
AND THE WORST?
Getting caught eating the food in the storeroom.
ANY PERKS?
Getting treats and pats from our clients and all the compliments.
If you would like your "Pet at Work" interviewed by Nev please contact:
[email protected]