[vc_row][vc_column width="1/6″][us_image image="67082″ size="full" align="left" style="circle"][/vc_column][vc_column width="1/6″ offset="vc_col-lg-4/5 vc_col-md-4/5 vc_col-xs-4/5″][vc_column_text]By Leisha Jordan[/vc_column_text][us_post_date][/vc_column][/vc_row][vc_row][vc_column][vc_column_text]The winners of the 2022 Nursery and Garden Industry NSW and ACT (NGINA) Industry Awards were announced at a sell-out gala celebration at Rydges Norwest on Friday, December 2nd.
ABC Gardening presenter, Costa Georgiadis was MC for the Awards which recognised wholesale/ production nurseries, retail garden centers, allied suppliers, apprentices and the next generation of industry leaders from across NSW and the ACT for being at the top of their fields.
Anita Campbell, NGINA CEO said the calibre of nominees was outstanding:. "The standard of entries was exceptionally high and each and every one of this year's finalists could have taken home a prize for excellence in the nursery and garden industry.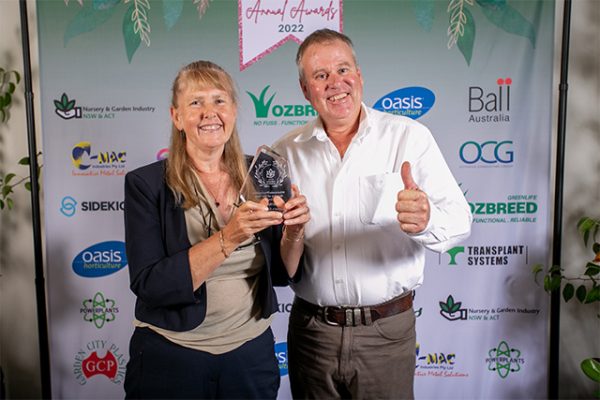 "In saying that, some members absolutely excelled this year and NGINA is delighted to recognise the individual efforts and contributions of these industry representatives across a wide range of categories", she said.
Local winners included Swane's Garden Care at South Maroota which was named Small Wholesale/Production Nursery of the Year.
According to the judges in this category this small nursery at South Maroota is managed with great attention to detail. The owners pride themselves on growing good quality stock and have excellent site management.
The title for Large Wholesale/Production Nursery of the Year was won by Scotts Tubes at Mangrove Mountain which won the title for the third successive year. It was also praised for its commitment towards sustainability and continuous improvement.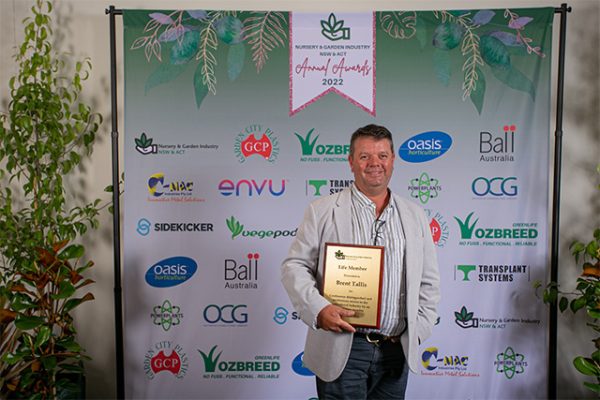 Brent Tallis from Arcadia was made a NGINA Life Member for his distinguished and meritorious service to the Industry. He started in the industry in 1986 as an apprentice at Glenacres Nursery and in 1992 Brent was awarded NGINA's Junior Nursery Person of the Year and around the same time was appointed President of the newly re-formed Tree and Shrub growers' group. Brent served on the NGINA board between 1998 -2006 (he was President in 2003 and 2004 and Vice President before that). He has served the industry on multiple committees including the Industry Advisory Committee for Horticulture Australia.
Through his business, Brent has been a great supporter of the industry and the events it has organised, particularly conferences both state and national, awards nights, industry run trade expos and trade days.
Based at Kenthurst, the NGINA is the peak representative body for operators in the nursery and garden industry and is committed to a growing, united and sustainable nursery and garden industry.
The annual Awards are decided by an indepth judging process that is carried out by a panel of industry experts and a band of mystery shoppers.
OTHER WINNERS
• Small Retail Nursery of the Year: Native Grace at Robertson
• Large Retail Nursery of the Year: Heritage Gardens East Maitland
• Allied Supplier of the Year: CutAbove Tools at Seven Hills
• Next Genner of the Year: Jasmine White, Scotts Tubes, Mangrove Mountain.
• Apprentice of the Year: Raychel White, Penrith City Council.[/vc_column_text][/vc_column][/vc_row]