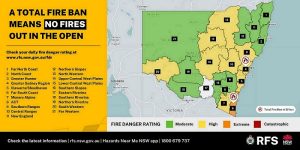 The Greater Sydney Region (GSR) will have a Total Fire Ban in force from midnight 18 September until midnight 19 September 2023.
This is according to a recently issued notice by the NSW Rural Fire Service on Monday afternoon. The Fire Danger Rating for Tuesday is HIGH, which pertains to a heightened fire risk. Residents are advised to be on high alert and plan ahead.
According to the NSW RFS, "[h]ot and windy conditions are forecast across parts of the state, increasing the fire danger." 
Per the Service's guidelines, a Total Fire Ban means individuals "cannot maintain or use a fire in the open, or to carry out any activity in the open that causes, or is likely to cause, a fire."
"General purpose hot works (such as welding, grinding or gas cutting or any activity that produces a spark or flame) are not to be done in the open."
Electric barbeques should be under direct control, and no combustible material must be within two metres at any time it is operating. 
Gas barbeques have stricter conditions, such as accessible water nearby, the equipment must be within 20 metres of a permanent private dwelling, within a designated picnic area, and the equipment approved by the Council, National Parks or State Forest.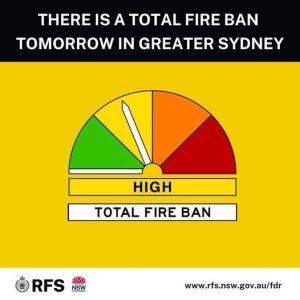 The Ban includes Local Government Areas in the GSR, namely The Hills; Blacktown; Blue Mountains; Burwood; Camden; Campbelltown; Canada Bay; Fairfield; Hawkesbury; Hornsby; Hunters Hill; Kogarah; Ku-ring-gai; Lane Cove; Liverpool; Mosman; and North Sydney. 
In addition, it also includes Parramatta; Penrith; Randwick; Ryde; Strathfield; Sutherland; Sydney; Waverley; Willoughby; Woollahra; Bayside; Canterbury-Bankstown; Central Coast; Cumberland; Georges River; Inner West; and the Northern Beaches.  
Along with the Greater Sydney Region, the Far Coast, with an Extreme rating, will also initiate a Total Fire Ban on Tuesday.
On 20 September, Fire Danger Ratings of the GSR and the Greater Hunter area are forecasted to rise to Extreme.
It is advised to report all unattended fires to 000. For more information about the Danger Ratings and current hazards, visit the State's Rural Fire Service's website here.