Prior to the local Council re-zoning this locality was within The Hills Shire Council area, but is now the responsibility of Parramatta City Council. Sometimes referred to as the North Rocks Dam, this structure, completed in 1996 is located on the lower reaches of Darling Mills Creek. It is designed to reduce the flow of flood waters following heavy rain in the upper catchment.
During normal conditions access past (through) this 30m concrete wall is through a tunnel which, during times of flooding, restricts the amount of water flowing downstream to populated areas below, towards North Parramatta.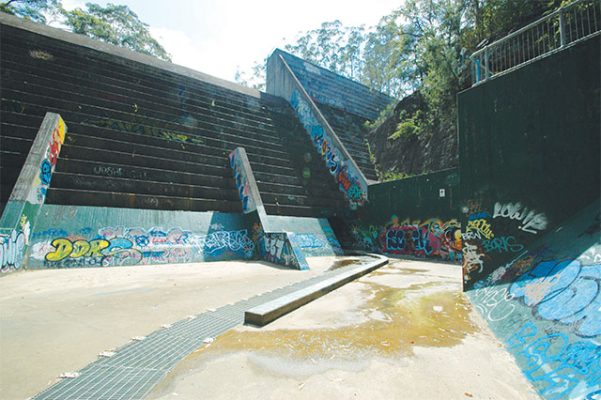 Regrettably the location has become a paradise for graffiti "artists" who have exhibited their misguided skills as far as their physical height can reach.
The basin can be reached by several means. Firstly, and probably most conveniently, at the end of Loyalty Road, North Rocks, along a sealed but fairly steep road to begin with, (walkers and cyclists only), that leads to the bottom of the valley in which the wall is constructed. Secondly, via the Murri-Yanna Track from Hazel Ryan Reserve downstream of the Basin, or, thirdly, accessing other entry points that connect with the Murri-Yanna Track upstream from the Basin in the vicinity of Bidjigal Reserve.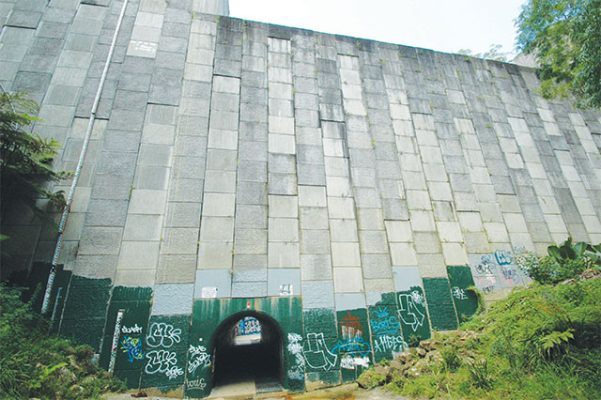 All these access tracks pass through interesting bushland along numerous watercourses.
There are a number of vantage points located higher up the hillside which allows a greater appreciation of the magnitude of this structure, as well as a couple of viewing platforms with protective railings that prevent visitors falling over the edge of the quite steep valley.