The NSW Government is charging ahead with its transition from diesel to electric buses with the approval of $3 billion to fund the next stage of Zero Emission Buses (ZEBS) and new charging infrastructure.
More than 1200 new buses will be manufactured under the Zero Emission Buses program as part of a plan to eventually replace the entire fleet with electric vehicles.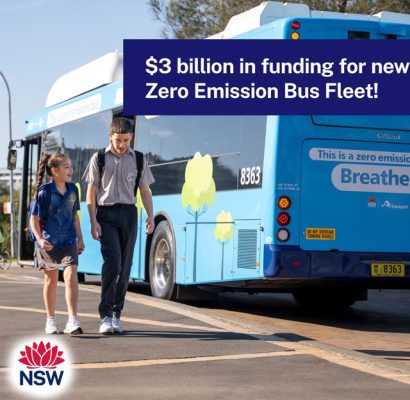 The NSW Government will transition the entire 8000 plus bus fleet to zero emissions technology by 2035 in Greater Sydney, Outer Metro regions by 2040 and regional NSW by 2047.
This investment in the next-generation of buses shows how the NSW Government is serious about the environment, but also Australian manufacturing. This funding is a spark for local industry, including across Western Sydney where some of these buses are already being made.
This major investment will make NSW a global leader and will also deliver benefits to the local economy by supporting over 1400 jobs as we ramp up local bus production.