All
Community News
newsletter
New C-130J Aircraft to arrive in RAAF Richmond starting 2027
In total, 20 Lockheed Martin C-130J will soon be based at the Richmond Base, replacing the 12 C-130J first acquired in 1999.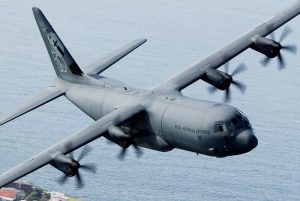 The C-130J. Image belongs to Australian Government – Defence. 
---
Local industry in Hawkesbury will see a boost with the Albanese Labor Government's decision to invest in 20 new C-130J Hercules aircraft for the Royal Australian Air Force, to be operated and maintained at the RAAF Richmond.
Federal Member for Macquarie, Susan Templeman, welcomed the $9.8 billion announcement and said it has wide-reaching benefits for Hawkesbury.
"The Hawkesbury is proud to be the home of the Hercules aircraft, and we know they are a vital part of our Defence force," Ms Templeman said.
"The new aircraft will replace and expand the current fleet, which have been part of almost every major Defence operation since their delivery to Richmond between 1999 and 2001.
"The increase in the fleet, from 12 aircraft to 20, is good news for the ongoing operation of the RAAF Base Richmond, where the aircraft will continue to be operated by No. 37 Squadron."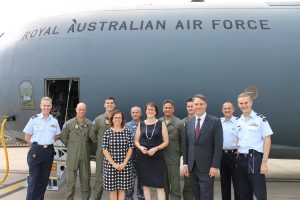 Image belongs to Susan Templeman MP. 
The current batch has seen multiple Australian Government Defence operations in New Zealand, Timor-Leste, Iraq, and Afghanistan.
Three crewmembers man the Lockheed Martin C-130J and act as a tactical and medium transport of the RAAF. With a length of 29.3 m, 11.9 m in height, and a 39.7 m wingspan, it can fly at 417 mph at 22,000 feet.
Its four Rolls-Royce engines can transport 19,090 kg of allowable payload and 15,422 kg of maximum normal payload. In its full cargo capacity, the aircraft can reach a maximum of 28,000 feet. Depending on the configuration, it can carry up to 90 combat troops or 64 paratroops, and some flight nurses and medical technicians, depending on the situation.
"More aircraft means more jobs in maintenance and more jobs as we build the infrastructure required to support them at the Base.
"The Hercs can carry people or pallets, heavy machinery or medical supplies, and have been used in disaster response locally and overseas.
"Having a bigger fleet equips us to respond to a wide range of challenges we may face in the future and is part of our commitment to make sure the ADF has the capability it needs."
It is expected that the first C-130J will be delivered in Richmond in late 2027.
Similarly, other multibillion-dollar investments are set to be delivered in the same year, such as the 129 Redback vehicles of the $5 – 7$ billion LAND 400 Phase 3 project.