All
Community News
RFS
Hazard Reduction Notice on area around McClymonts Road
The notice covers an area of almost 140 ha.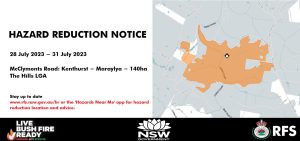 ---
A Hazard Reduction Notice is scheduled to occur starting 28 July, Friday, until 31 July 2023, Monday, on McClymonts Road and its nearby vicinity, according to the New South Wales Rural Fire Service (NSW RFS).
NSW RFS will conduct a "prescribed burning of vegetation to reduce the bush fire fuel and assist in reducing the intensity and adverse impact of bush fires in extreme weather conditions."
The hazard notice encompasses a total area of 139.39 ha of both Private and Crown Lands. Areas near the McClymonts Road such as Kenthurst and Marayla will be within the hazard reduction zone.
Thereby, the public is advised to follow and consider these precautions:
IMPORTANT: If you have electronically operated or locked gates please leave them open on the day of the HR so that crews can access the area if and when needed;
•Keep doors and windows closed to prevent smoke from entering homes;
•Keep outdoor furniture under cover to prevent ember burns;
•Retract pool covers to prevent ember damage;
•Remove washing from clotheslines;
•Ensure pets have a protected area;
•If you are driving a vehicle, slow down, keep windows up and turn headlights on;
•If you have asthma or a lung condition, reduce outdoor activities. If smoke levels are high and if shortness of breath or coughing develops, seek medical advice.
Image credit to NSW RFS.