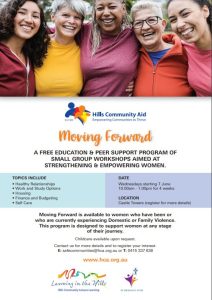 On 7 June 2023, the Hills Community Aid (HCA) will hold a series of small-group workshops centred on the theme, "Moving Forward."
The free program will last for 4 weeks, every Wednesday starting from 7 June until 28 June.  The series will include topics such as Healthy Relationships, Work and Study Options, Housing, Finance and Budgeting, and Self Care. Childcare is available upon request, according to the HCA.
The Moving Forward workshops seek to help women "who may have been or who are currently experiencing Domestic or Family Violence. This program is designed to support women at any stage of their journey."
Hills Community Aid's sessions
All sessions will start from 10.00 AM and until 1.00 PM. It will be held at Castle Towers, Old Castle Hills Road, Castle Hill, NSW 2153.
Registration is required via email or call:
Email: [email protected]
Call: 96398620
Image sourced from the Hills Community Aid.