[vc_row][vc_column width="1/6″ offset="vc_col-lg-1/5 vc_col-md-1/5 vc_col-xs-1/5″][us_image image="67173″ size="thumbnail" align="left" style="circle" has_ratio="1″][/vc_column][vc_column width="1/12″ offset="vc_col-lg-4/5 vc_col-md-4/5 vc_col-xs-4/5″][vc_column_text]By
Bev Jordan
[/vc_column_text][us_post_date][/vc_column][/vc_row][vc_row][vc_column][vc_column_text]Neville Menzies (pictured) was 11-years-old when he became a boarder at the William Thompson Masonic School at Baulkham Hills in 1948. His father, a Mason, had died in a workplace accident in 1947.
Neville's mum and his younger brother moved in with his maternal grandmother in Young where they also shared the two-bedroom house with Neville's uncle and aunt. It was a local jeweller, who was a Mason, that heard of the family's plight and put them in touch with the Masonic school at Baulkham Hills. He paid for Neville and his mum to travel to Baulkham Hills to be interviewed for the boarding school.
The Masonic school was built for the care and education of children of deceased Freemasons and opened to huge crowds on November 11, 1922
Neville says: "In primary school when I started the boys were taught on site and for the first year I stayed in a Junior Boys' cottage then I spent three years at Cropley house (the senior boys' boarding school) and went to school at Westmead Technical school."
"Every school holiday I would go home." Neville says they were all well clothed, well fed, well boarded and they had access to a good education.
"There were 24 boys in a dormitory, we would get up at about 530am in the morning, strip the bed, have a cold shower, make the bed, clean our allotted area and then go down for breakfast."
Once dressed for school the boys would then march down from Cropley House to Seven Hills Road to catch the bus to school.
Saturdays were "heavy housework" and sports in the afternoon. Neville left when he passed his leaving certificate and got an apprenticeship as a fitter and turner.
He will be returning to Cropley House on Saturday November 12th for an old boys' reunion dinner to celebrate 100 years since the Masonic School at Baulkham Hills opened.
A Mason himself for 62 years, he will also be speaking at a special Remembrance Day service at Balcombe Heights this Sunday, 6th November.
The service will be held under the shade of the Memorial avenue of 364 Brush Box gum trees, planted to remember each of the Freemasons who died in WWI.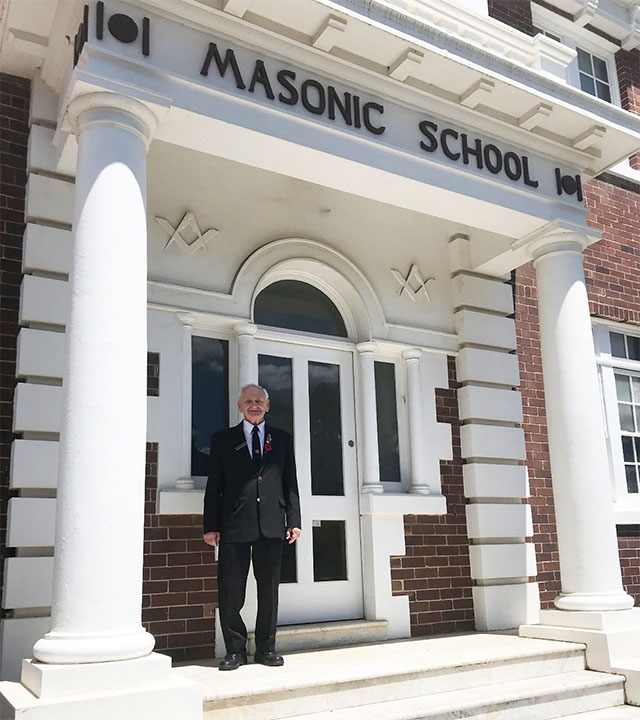 HISTORY
The Masons volunteered their time, skills and materials to build William Thompson Masonic School and provide a place for children from all over NSW who lost their Masonic fathers in World War 1. Their mothers had to find employment as there were no social services at that time.
Enrolment reached its peak of 380 pupils at the height of the depression in 1929.
There were five bungalows each with two dormitories for girls from Seven Hills Road leading up to the two storied Administration building, and then five bungalows for boys each with two dormitories.
Behind the Administration building there was a recreation hall and dining room.
The bungalows were surrounded by gardens, with a 25 yard pool, two ovals, a rotunda, a play house for the girls, weekly movies, a gymnasium and tennis courts.
More photos and history on the Masonic School site are on pages 26 and 27.[/vc_column_text][/vc_column][/vc_row]