Opera singer Viktoria Bolonina (pictured) thrilled residents in Grasmere Ave Northmead when she sang at the official launch of the Christmas lights at the Catajar family home.
The mezzo-soprano with Australian Opera who is currently undergoing her own cancer journey is the ambassador for the Kids With Cancer Foundation and this year Andy Catajar is fundraising for the charity with his illuminated home.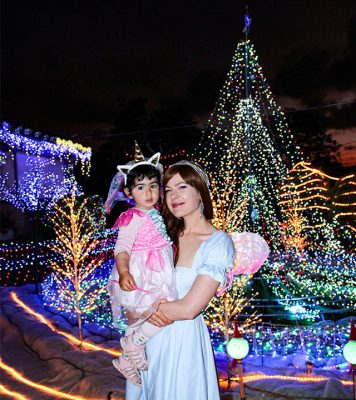 Viiktoria has been diagnosed with stage four brain cancer. A tumour the size of an orange was removed from her brain earlier this year and found to be malignant.
The mother of toddler Milana, reached out to the Kids With Cancer charity to ask how she could help saying she knew as an adult what having treatment was like and she wanted to help children facing a cancer diagnosis.
Tonight (Friday December 16th) she will again be on stage as part of the Christmas at the Domain carols concert. She has performed several times at the annual event since being a finalist on Season 1 of The Voice in 2012.
For Andy Catajar and his wife Carmen having their home covered in over a million lights is quite normal. The happy grandfather starts work on the decorating his home months in advance and has been a feature in the street for over 25 years. The family always raises money for children's charities and this year his light display will be raising money for the Kids with Cancer Foundation.
The display will set the street and suburb aglow every evening until 31st December but the biggest night is set to be Christmas Eve when there will be a barbecue with volunteers from Kids with Cancer Foundation and Christmas carols at a giant street party in Grasemere opposite the Catajar home.
It will be a well lit community barbecue. The 82-year-old said: "I have been creating my Christmas light display for more than two decades now, using it to shine a light for sick children.
"Kids with Cancer Foundation is a locallybased charity which does a lot of great work in my area, throughout Sydney and nationally and I am honoured to partner with them to raise awareness and funds to help kids with cancer."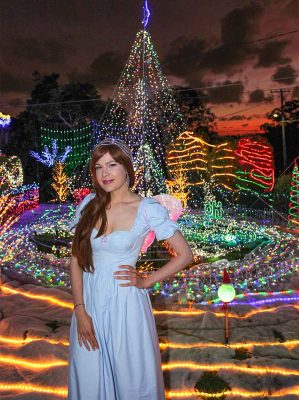 The Castle Hill- based foundation has helped over 2,450 families, funded 186 clinical positions and donated $23 million to children's hospitals across Australia.
A spokesman for the charity said: "Near 800 children are diagnosed with cancer every year, and the team at Kids with Cancer Foundation, together with their supporters – such as Andy – are committed to making today easier and brighter for these children and families.
"Donations for Kids with Cancer Foundation will be welcomed at Andy Catajar's Christmas Light Up, via both a donation bucket plus QR code online donations, and Andy is also selling raffle tickets with fabulous prizes to help raise funds."
For more information about the work of Kids with Cancer Foundation visit www. kidswithcancer.org.au
The Didsbury family at Beacon Ave on the Corner of Greenbank Drive Glenhave are raising money for the Cancer Council. Their lights will be on until the New Year.