All
Playground
Kurrajong Memorial Reserve: Discover Hawkesbury's Playgrounds & Recreations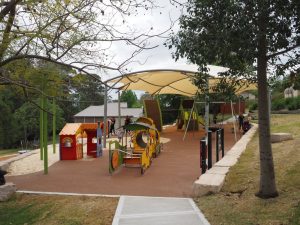 Kurrajong Memorial Reserve, also known as Memorial Park Kurrajong, offers a fairly-sized playground for the kids featuring a climbing net and a house set, among others. Most of the play units are under shade.
Parking spots at a car park, public toilets, and picnic tables are available within the vicinity.
It is also a few metres away from the Kurrajong War Memorial, a monument dedicated to all ex-servicemen and servicewomen throughout Australia and the Kurrajong District who have served "…our country in any way."
The playground and park are located at 84 – 96 Old Bells Line of Road, Kurrajong Memorial Reserve, Kurrajong NSW 2758.
To know more about it, visit New South Wales' Government dedicated webpage here for contact information: Kurrajong Memorial Reserve.
Image credit to NSW Government.