The Hills United team are clear at the top of the FNSW League One Men's competition after reeling off victories in their last five games.
They are sitting on 26 points from eight wins, two draws, and one loss to set the pace this season in the 16-club championship. They have a healthy goal tally with 25, while conceding just 11 from their 11 matches. Their impressive winning streak was halted by a 10-man Blacktown Spartan FC last week, their game ending in a 1-1 draw.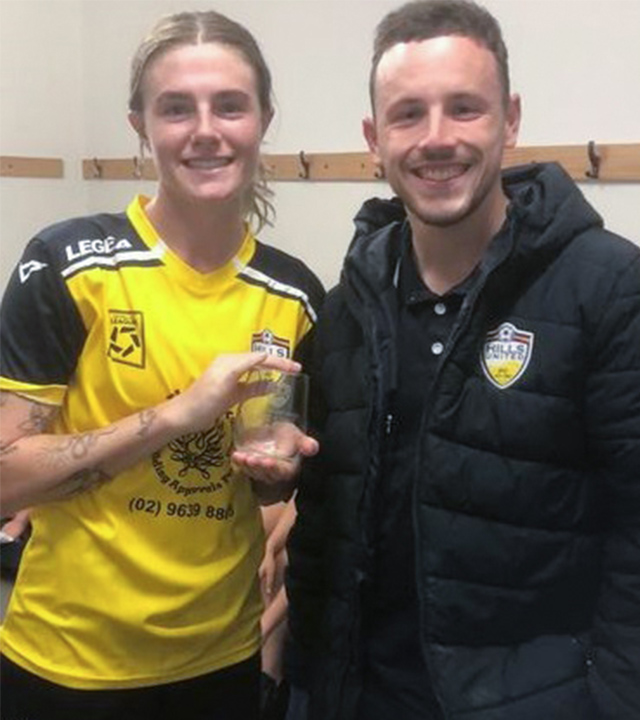 Jamal Belkadi scored the equaliser for Hills United after a pass from Nathan Rayner in the 52nd minute after Franco Scarcella had put Blacktown ahead in the 23rd minute.
Spartan goalkeeper Michael Figueira was sent off just before half-time after bringing down Nathan Rayner, but the Hills outfit were unable to make the most of the advantage.
St George FC are a close second on the table with 25 points, followed by Northern Tigers (19)
In their previous two matches, Hills United beat Dulwich Hill and Mounties Wanderers with identical 1-0 margins. Thomas Makko scored the all-important goal against Dulwich Hill in the 75th minute to maintain their rich streak.
In-form striker Mitchell Smith was the goal-scoring hero against the Mounties, striking in the 61st minute, soon after coming on as a substitute for Wade Giovenali.
Hills United take on St George in a clash of the leading contenders on Saturday, April 22, at 7pm.
Hills Women's Streak Stopped
The Hills United women's team's momentum was halted by Central Coast Mariners in their top-ofthe- table game at Bella Vista last Sunday. The Mariners pulled off a 1-0 victory to take the top spot.
Hills United missed regulars Isabella Sciberras and Cassandra Wheeler who are due to return for this Sunday's game when they are away to Marconi Stallions. Kick off is at 3.45pm
The setback saw Hills United in second place on the table, on 13 points, with four wins, a draw, and a loss. The Mariners have a twopoint cushion over their Hills rivals, with a game in hand.
It was a complete change in fortunes for Hills United, who had thumped Inter Lions FC 9-0 in the fifth round. Ellen Berios led the way with a hat-trick, with Bianca Galayini (2), Brooklyn Meredith (2), Stefanie Trovato, and Imogen Lane beinf the other scorers.
This was the second time this season that last year's premiership finalists had run riot against their rivals. They had begun their season with an emphatic 7-1 rout of South Flame..