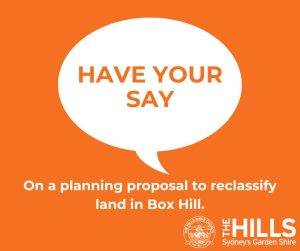 The Hills Shire Council encourages Hills Shire residents to view a planning proposal about changing the status of an area of land at Box Hill, open only until the 19th of June 2023.
According to their media piece published on the 19th of May, 2023, the planning proposal aims to "amend State State Environmental Planning Policy (Precincts – Central River City) 2021 to reclassify a small area of land with an area of 487m2 at 28 Hynds Road, Box Hill (Lot 2 DP 621465) from 'community' to 'operational' land in accordance with the Local Government Act 1993."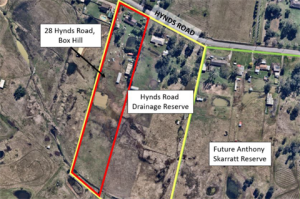 In addition, the Hills Shire Council states that the amendment will contribute to future road and drainage improvement projects. HSC also mentioned it will be part of a  "future drainage network for the Box Hill Precinct."
Submissions close at 5:00 PM, 19th of June. The proposal was opened for public exhibition on the 19th of May.
To read the complete article about the planning proposal, visit The Hills Shire Council media release here: Planning Proposal – Reclassification of residential land from 'Community' to 'Operational' – 28 Hynds Road, Box Hill (1/2023/PLP)
Image credit to The Hills Shire Council.