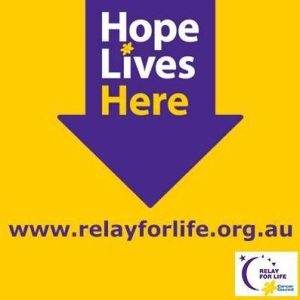 Hills Relay for Life 2023 is just a few hours away. As of the 19th of May, teams had already started setting up for the big day tomorrow, Saturday, until the 21st.
In 1985, Relay for Life started with Dr. Gordy Klatt, an American colorectal surgeon, and his dedication to let people know about cancer and its detrimental effects. According to the Relay for Life website, Dr. Klatt "spent a gruelling twenty-four hours circulating a track in Tacoma, Washington, and raised over US$27,000, showing that one person really can make a difference."
It reached Australia in 1999 and has thrived in other communities, raising cancer awareness and funds for multiple organizations.
The following is the schedule of programs posted by a Hills Relay for Life Facebook post today:
Friday 19 May
2.00 pm to 6.00 pm – Site open for early team set up
Saturday 20 May
6.00 am – Site opens for Relay day team set up
7.00 am – Registration opens
9.30 am – Opening ceremony
10.00 am – Survivors & Carers Lap of Honour & morning tea
11.00 am – Zumba with Nina
12.15 pm – Head shave with Joel, Jaime & Sharon
3.00 pm – Box Car Lap
6.00 pm – Hope Ceremony
8.00 pm – Raffle draw
10.30 pm – Silent disco starts
Sunday 21 May
6.30 am – Parramatta Cycle Club Change a Tyre Competition
7.00 am – Breakfast
7.00 am – Dog morning presented by Sydney Animal Hospital (we'd love to see your four-legged friends join us on the track!)
9.25 am – Last lap
9.30 am – Closing ceremony & awards
PLUS tonnes of other exciting activities, entertainment and competitions to get involved in, including a meet and greet with our friendly mascots and performances from Jenna's Singing School, Jigsaw Dance School and The Stage Door Performing arts, plus many more!
And of course throughout the event, our Relayers will be walking around the track to signify that every day, we're making strides towards a cancer free future
The event will be held at Castle Hill Showground, Castel Hills, starting at 9.30 am on Saturday and 10.00 am on Sunday.
Registration costs $25.00 AUD for adults aged 18 and above, while youth (8 to 17 years old), and students with a student card can avail tickets for $15.00 AUD. Families composed of 2 adults and 2 youths can purchase tickets for $60.00 AUD.
Children (0 to 7 years old) and Survivor/Carer Lap are free of admission.
For more details on the registration and its prices, visit their event website here: Hills Relay for Life 2023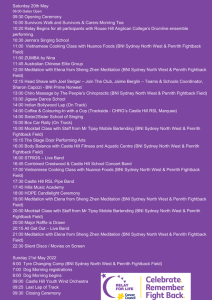 Sources: Hills Relay for Life, Relay for Life
Images sourced from Hills Relay for Life