All
Police Story
Hills Highway Patrol Suspend 19-year old P1 Licence Holder for Speeding
Officers from The Hills Highway Patrol suspend a P1 licence holder travelling 56 km/hr over the sign-posted speed limit.
At about 10.40 pm on Saturday 22nd of April 2023, officers detect a Nissan Pulsar along Green Road at Kellyville travelling at 116km/hr in a sign-posted 60 km/hr zone. Officers stopped the vehicle and spoke with a 19-year-old male driver from Cherrybrook. He was a holder of an NSW C Class P1 licence where he stated to officers, "Sorry". The driver returned negative results for alcohol and drugs.
The driver was issued an infringement notice for Exceed Speed Limit – over 45 kph, his NSW driver's licence was suspended and confiscated on the spot for a period of 6 months. The vehicle was not owned by the driver and the number plates remained on the vehicle.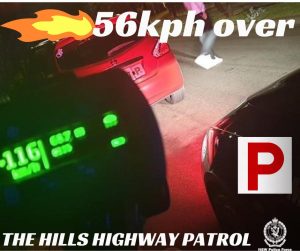 Source: The Hills Police Area Command