[vc_row][vc_column width="1/6″ offset="vc_col-lg-1/5 vc_col-md-1/5 vc_col-xs-1/5″][us_image image="67173″ size="thumbnail" align="left" style="circle" has_ratio="1″][/vc_column][vc_column width="1/12″ offset="vc_col-lg-4/5 vc_col-md-4/5 vc_col-xs-4/5″][vc_column_text]By
Bev Jordan
[/vc_column_text][us_post_date][/vc_column][/vc_row][vc_row][vc_column][vc_column_text]
Heather Lee turns 96 in a few days and she walks faster than a lot of people younger than her run. Her amazing stride and stamina are the reasons why the Richmond resident is the proud holder of several world Masters records and a multiple Australian records.
This year alone she has achieved 3 world record times in the 400m, 800, and 1500m … she is keen to tackle the mile.
There is not a lot that deters Heather from running, she checked out of hospital to attend one race meeting and walked in the pouring rain at another meeting breaking a World Record in her stride..
"I was walking in water and I was soaked!" she says. A video of her setting the new World Record for W95 1500m (pending ratification) in 13min 45.93secs on the Athletics NSW Facebook page went viral, breaking another record with a staggering 79,000 views, 2,200 shares and 2.3k comments.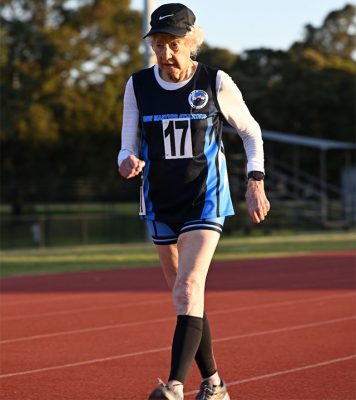 A week earlier Heather smashed the W95 400m World Record at the Treloar Shield with a finish time of just over 3 minutes 10 secs (3:10.21) surpassing the previous World Record held by USA Track and Field competitor Diane Friedman (3:21.00) by over 10 seconds.
Although there are no competitors in her 95 to 100 age bracket at the Australian Master Athletics there still needs to be at least four people in each event so Heather is often walking against people much younger than her.
Heather started in a local walking group, then took part in numerous fun runs before joining Masters Athletics in 2011 and clinching four gold medals in her first meeting, at the age of 84, at the Australian Masters Games in Adelaide
"I was beating women younger than me," she says. She has twice been named Australian Masters Walker of the Year.
She has an Order of Australia Medal (OAM) and is the 2019 NSW Senior of the Year. A passionate walker, Heather is also a fundraiser and raises money for several charities every year. This month it is the #PremmieMarathonChallenge to fund neonatal equipment. "My birthday coincides with World Prematurity Day this month," she told the Hills to Hawkesbury Community News.
"I will be walking the 42 kms in less than a week. I walked 100kms last year in a week."
At the last Hawkesbury Relay For Life event in 2018 Heather walked 100,000 steps in 21 hours. (This writer had to run to keep up with her at the time). Heather has been supporting the Cancer Council for over 20 years since her husband Len died from lung cancer. His last words to her were, 'Now is the time to show your mettle.'.
She says a good diet and healthy lifestyle that includes exercise are the best way to nurture mind, body and spirit.
"I have good genes, and good knees and hips, " she says."When I was young I couldn't keep still, I was always very active, I played tennis, hockey, netball, swam and walked."
She said COVID was hard, she had her treadmill and bike at home and trained on those and did virtual events but missed being with people.
"I thought I would not compete again." She will be heading to Campbelltown this weekend to better her own world record in the 1500m and she still wants to tackle that mile. [/vc_column_text][/vc_column][/vc_row]