[vc_row][vc_column width="1/6″ offset="vc_col-lg-1/5 vc_col-md-1/5 vc_col-xs-1/5″][us_image image="67486″ size="thumbnail" align="left" style="circle" has_ratio="1″][/vc_column][vc_column width="1/12″ offset="vc_col-lg-4/5 vc_col-md-4/5 vc_col-xs-4/5″][vc_column_text]By
Lawrence Machado
[/vc_column_text][us_post_date][/vc_column][/vc_row][vc_row][vc_column][vc_column_text]
Federal member for Macquarie, Susan Templeman said the Federal 2022 Budget delivers on her election commitments, including $4.95 million for disaster recovery and preparation funding across the electorate plus $2.5 million for North Richmond Community Centre.
This is to ensure it is upgraded for better use during a disaster.
The first Labor Budget, delivered by Jim Chalmers last week, importantly continues the $400m budgeted for the North Richmond Bridge duplication. "I have advocated and progressed this project since 2010, when the then Infrastructure Minister, now Prime Minister, Anthony Albanese committed $20 million to do the first planning for a duplication," said Ms Templeman, the Special Envoy for Arts.
"For many years, I was a lone political voice in the Hawkesbury on this issue at a State and Federal level, but there has always been enormous community support. I look forward to progressing work with the NSW Government, who is ultimately responsible for finalising the route and constructing the bridge. I intend to continue advocating for those most affected by the proposed route so that we get the best possible outcome for our whole community."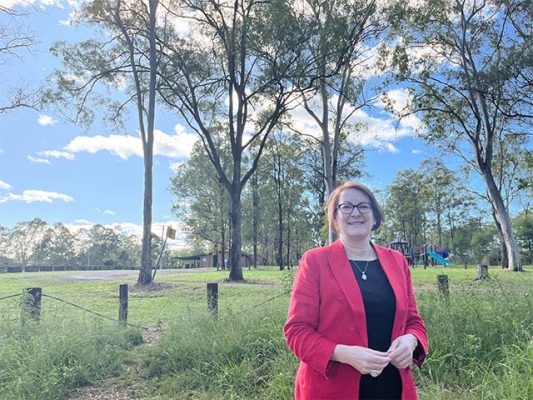 The member for Macquarie said additional road funding, separate to the flood road funding already available to the council, has been announced in the Budget, with $11.2 million for road upgrades in the Hawkesbury.
"There are many other exciting initiatives in the Budget for the Hawkesbury including the first community battery, which will allow Hobartville residents with solar panels to store their energy, meaning cheaper electricity bills for them," Ms Templeman said.
She said $12.5 million has been allocated for local road upgrades in the Blue Mountains plus $3 million for the upgrade of Woodbury Reserve in Glossodia.
"Again, this is a project that will be delivered by the (Hawkesbury) council, and they have existing plans in place," Ms Templeman said. "Glossodia residents have been waiting a very long time for improvements to Woodbury Reserve, and I'm very proud to be assisting council in bringing them to life."
Glenbrook Oval, which is used by Glenbrook Little Athletics Centre and other sports clubs, will benefit from a $2.5 million upgrade. Meanwhile, in a speech to the Parliament last week, Ms Templeman said the Budget has lifted support for veterans.
"Our Budget tackles many of the issues people have talked to me about — improving the claims process, simplifying laws and providing better support as people shift into civilian life," she said. "It implements key recommendations from the interim Royal Commission report, with more than $230 million to bring on 500 new front-line staff to eliminate the compensation claims backlog — a key election promise — plus an increase in TPI payments.
"At a local level, my promise of a veterans and families hub for our region is funded, a $5 million election commitment. In addition, we've continued the $5 million for the Scheyville veterans families and community centre, which will provide a range of wellbeing opportunities for veterans and the community alike.
"I look forward to working closely with my community as we develop both these projects. Veterans have stood up for us, and in return, we must look after them."[/vc_column_text][/vc_column][/vc_row]