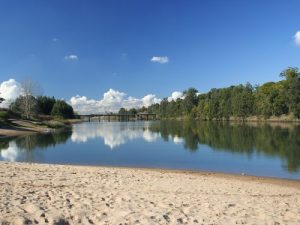 ---
Hawkesbury City Council will develop a Hawkesbury Public Water Safety Strategy and implement a "safe systems" approach to swimming at Macquarie Park and waterways across the Hawkesbury to reduce the risk of further drownings in the region.
At the 11 July 2023 meeting of Council, Councillors received the Macquarie Park Safety Assessment Report authored by Royal Life Saving NSW and commissioned by Hawkesbury City Council following the drownings of two visitors to the park in December 2022. A number of recommendations and options for improving water safety in local waterways are contained within the report.
A Public Water Safety Strategy will provide clear guidance for the effective short-and long-term management of public safety around waterways throughout the Hawkesbury, not just the Hawkesbury River. It would determine appropriate risk management and mitigation actions to help prevent the further loss of life of people engaging in recreational activities on the river.
The Strategy would be developed through consultation with all relevant stakeholders such as regional agencies, state government, emergency services and community representatives, using the recommendations and options in the Macquarie Park Safety Assessment Report as a guide.
Councillors resolved to adopt a "safe systems" approach for the Strategy, meaning that while Council does not endorse or support swimming in local waterways, it accepts that residents and visitors will choose to swim and undertake recreational activities in these locations, and that these choices should not lead to loss of life. What approaches and steps Council will take to improving water safety on local waterways will be determined by the Strategy.
Work on the Strategy is now underway, and a draft will be presented to the broader community for review and comment once the draft is finalised.
In the meantime, [Hawkesbury City Council] will continue to work with Royal Life Saving NSW to promote safety around our inland waterways for both residents and visitors via signage, local media and social media.
Source: Hawkesbury City Council.