All
Library / Museum
Hawkesbury Author JA Bryden's talk on His Debut Book
Listen to JA Bryden's debut book about the 1932 War from a unique perspective.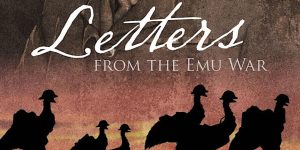 Hawkesbury author JA Bryden will discuss his debut book, Letters from the Emu War, on 14 July 2023, at the Hawkesbury Central Library.
The 144 pages book is based on real-life events during the Great Emu War of 1932 but from the perspectives of the Emu themselves. According to the book's synopsis, readers can "[f]ollow Edward R Long-toe, John Feathers, William J Whistlebeak and more through their adventures before, during and after the war."
It will begin at 10:30 AM and will conclude at 12:30 PM. The talk is free of charge and is suitable for ages eight and up. As per the Hawkesbury Library Service, "[c]hildren under 10 must be accompanied by an adult."
Registration can be made online via Eventbrite using this link: Winter School Holiday Program – Children's Author Talk – JA Bryden.
Along with Ryan Haigh and Chris Park, they run a podcast called Stories: the true and the fictional, which covers various topics in human interest. JA Bryden also wrote a zombie-apocalypse-themed book called Bucks Knight (The Wedding Knight Trilogy Book 1).
The Hawkesbury Central Library is located at 300 George Street, Deerubbin Centre Windsor, NSW 2756, Australia.
Image credit to the Hawkesbury Library Service and JA Bryden.