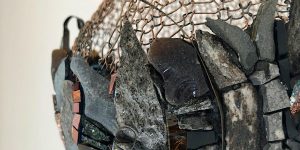 On the 10th of May, Hawkesbury Regional Gallery Director Diana Robson will guide visitors on a tour of the Gallery.
Currently, there are two exhibitions in the Gallery. "Escape Artists" is a collaboration by mosaic artists Caitlin Hepworth and Marian Shapiro. According to the Gallery, the mosaics "tell personal stories with universal relevance themed on escape and displacement."
On the other hand, artists Jody Graham, Nazanin Marashian, and Nastraran Ghadir crafted "Inner Worlds," which talks about grief and healing, among others.
The free tour will last from 11 am – 12 pm. The Gallery is located at 300 George Street, Windsor, NSW.
The tour requires an online ticket from here: Curator Talk: Inner World & Escape Artists
Source: Hawkesbury Regional Gallery, Escape Artists, Inner Worlds
Image sourced from: Hawkesbury Regional Gallery