If you're thinking about selling this season, there are plenty of upsides to an autumn sale. With the holiday season behind us and the school year well underway there is an increase in serious buyers, with the added benefit of cooler weather ensuring more comfortable inspections and auctions. Capitalise on the increase in committed buyers and lower temperatures this season with these essential tips to help you prepare for your autumn sale.
Maximise curb appeal – Curb appeal is important all year round, but it's essential in autumn. Potential buyers like to drive past a property before inspecting it, so be diligent about keeping your front lawn tidy.
Tidy the garden – After summer gardens can be dried out or overgrown depending on which part of the country you live in. Give your garden plenty of attention before listing: water the lawn regularly, remove dead or dying plants, weed the garden beds, rake up leaves, trim bushes and hedges, and add some potted colour.
Check the gutters – Deciduous trees fill gutters and drains with dead leaves. Rooflines overflowing with foliage give the impression that the home isn't cared for and scream high maintenance, which can be an instant red flag for buyers.
Clean the pool – Falling leaves seem to be attracted to pools. Make sure to remove any floating leaves and ensure that the bottom of the pool and filter are free from debris.
Clean windows – Nothing sells a property like clean windows – and this is particularly the case in autumn, where the goal is to bring the beauty of the season inside the home.
Declutter – It's essential to put your best foot forward when selling your property. Clutter, in particular, can affect buyer interest, as it can make a property look smaller and affect its flow. While you may have impeccable taste, your style won't necessarily appeal to everyone, so it's important to detach and depersonalise, creating a 'blank' canvas to appeal to a broader buying demographic.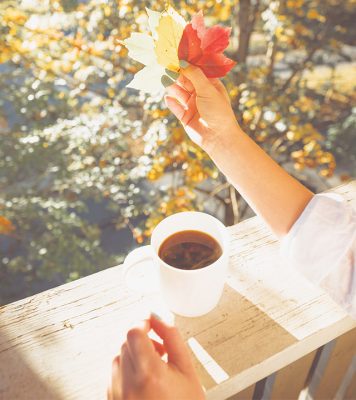 Wipe down walls, skirting boards and doors – As the seasons change and temperatures cool down, if you're in an area where autumn brings heavy rain you may experience issues with mould and mildew. With its negative health implications mould is a major turn-off for buyers, so it's essential to wipe down all surfaces.
Create warmth – Make sure your home feels warm and inviting for open homes and inspections. On the day of an inspection, put your heater on a timer, so it switches on an hour before people arrive. If you have a fireplace, ensure it is lit – a flickering fire can transform a room and add instant appeal to buyers.
Optimise lighting – Autumn means shorter days and a lowering sun. Open blinds, shutters and curtains to let as much light in as possible. Make sure any internal lighting creates a feeling of brightness and space.
Create just enough autumnal ambience – Autumn is a favourite season for many people, evoking feelings of nostalgia and a desire to stay warm and cosy indoors. Capitalise on this by creating an autumnal ambience that pulls on buyers' heartstrings – lighting a low-burning fire during inspections in homes with a fireplace and styling throughout with seasonally-appropriate items such as cableknit throws, warm-toned cushions, layered bed linen and vases of seasonal flowers.
---
The best way to prepare for a sale in autumn — or any season—is to use an experienced agent. Belle Property's Carolyn Wheatley knows the ins and outs of selling property and can equip you with the knowledge you need to capitalise on the market year-round – 0407 120 483.