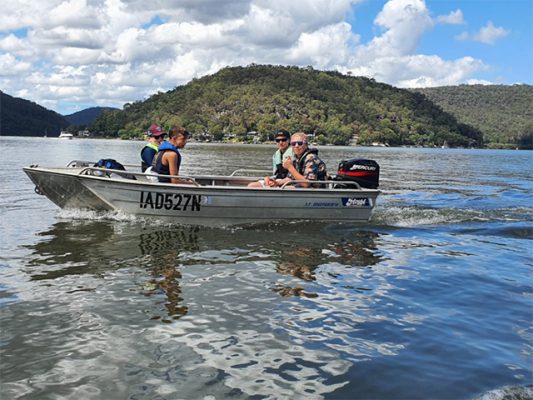 Dural Scout Emily Symons is working her way towards achieving the Australian Scout Award (formerly Medallion).
This is the highest level badge a member of the Scout Section can earn. To receive the Australian Scout Award a scout must complete a number of milestones and projects, a Leadership course and lead other scouts in a 3-day, 2-night Adventurous Journey.
To achieve the requirements for her Adventurous Journey Emily recently led three fellow scouts on a 3-day boat hike. In Emily's own words:
"We set out on the first morning at 6:30am from Berowra Waters in a tinny propelled by an outboard motor. By 7:30 we arrived at Twin Beaches and set up camp on the shore. We built a campfire where we later cooked our dinner before retiring for the night.
The next morning after breakfast we went for a swim and built a rope swing for fun. At 10:30 we left Twin Beaches and headed up the river to Marramarra, where we spent some time exploring and found a nice little creek and constructed another rope swing.
In the morning we left Marramarra and headed back to Berowra Waters, stopping at Twin Beaches for lunch. Next time I would double check the tide charts before setting out, as there is no phone reception at Marramarra."
Dural Scout Group has vacancies now for Girls and Boys from 5 to 25 years. Joeys (5yo), Cubs (8yo), Scouts (12yo) and Venturers (16yo).
Please contact Phirooza: 0411 731 976 or [email protected] or Simon: [email protected])