[vc_row][vc_column width="1/6″ offset="vc_col-lg-1/5 vc_col-md-1/5 vc_col-xs-1/5″][us_image image="67173″ size="thumbnail" align="left" style="circle" has_ratio="1″][/vc_column][vc_column width="1/12″ offset="vc_col-lg-4/5 vc_col-md-4/5 vc_col-xs-4/5″][vc_column_text]By
Bev Jordan
[/vc_column_text][us_post_date][/vc_column][/vc_row][vc_row][vc_column][vc_column_text]
Speaker of the House Jonathan O'Dea declared it the funniest speech he had heard in State Parliament when Baulkham Hills MP and Transport Minister David Elliott MP gave his valedictory speech on Tuesday night (November 15th).
The packed public gallery included former Liberal leaders Mike Baird and Peter Collins and also Newly elected NSW Liberal Party president Maria Kovacic as well as representatives from the emergency services and Shane Fitzsimmons.
Starting with a quote from British war time Prime Minister Sir Winston Churchill: "In a war, you can only be killed once, but in politics, many times" his speech was crammed with funny one-liners aimed at himself and others which had the chamber, including Premier Dominic Perrottet, and gallery laughing out loud.
He poked fun at himself and his many head-line making tribulations and spoke about his supportive and much-valued wife Nicole and great staff.
"Politics is a calling.," he said. "One that I had at an unusually young age. It caused great distress amongst my family and friends, particularly when I announced which side I was going to bat for. But like all families, mine accepted my inadequacies and I joined the Liberal Party 36 years ago, save for an unfortunate brief period earlier this year."
He ended his speech with a quote from Winnie the Pooh: "How lucky am I to have had something that makes saying goodbye so hard.""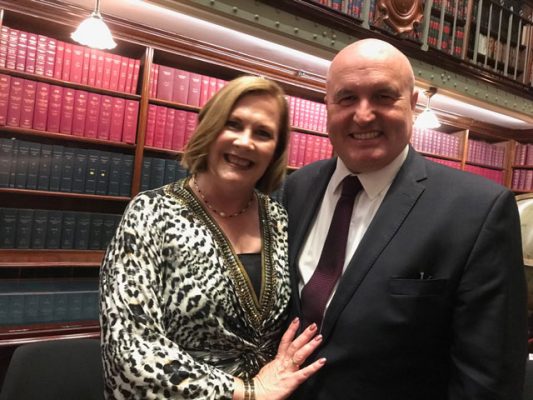 The Hills to Hawkesbury Community News asked him what had given him the most satisfaction during his time in Parliament and he said: "Opening the North West Metro and being successful in obtaining the funds and commitment for the much needed upgrade works to Memorial Ave (Kellyville) – both significant projects which will meet the future transport needs of Sydney's north west for generations to come."
He said being the Minister for Veterans had been a highlight and added. "The honour of being involved in the Invictus Games; opening the Anzac Memorial renovations standing alongside Prince Harry; introducing the prison bed capacity program and touring the state's Police and Emergency Services."
When asked what he regretted not being able to achieve he said: "I would have liked to have made Cumberland State Forest a National Park – this would have been a step towards ensuring green spaces remained a key hallmark of liveability in the Baulkham Hills electorate."
He said the saddest part of leaving was not being able to represent the people of the Baulkham Hills electorate any more.
The seat of Baulkham Hills has been renamed Kellyville for the forthcoming State Election on March 25th 2023. Mr Elliott announced last month that he would not be seeking Liberal pre-selection for either of the re-shaped seats which now take in parts of the Baulkham Hills electorate: Kellyville and Castle Hill.
There has been a bitter factional row in the Liberal Party over pre-selection in the two seats.[/vc_column_text][/vc_column][/vc_row]