[vc_row][vc_column width="1/6″ offset="vc_col-lg-1/5 vc_col-md-1/5 vc_col-xs-1/5″][us_image image="67173″ size="thumbnail" align="left" style="circle" has_ratio="1″][/vc_column][vc_column width="1/12″ offset="vc_col-lg-4/5 vc_col-md-4/5 vc_col-xs-4/5″][vc_column_text]By
Bev Jordan
[/vc_column_text][us_post_date][/vc_column][/vc_row][vc_row][vc_column][vc_column_text]
Janet Campbell's last day at Cherrybrook Community Pre-school will be at the end of the school's year and marks the end of an era.
The popular pre-school educator has been director of "Gumnut" Pre-school for 27 years, seeing more than 1,350 children graduate through the centre.
Miss Janet will be heading for a rest at her new home up the North Coast after an exhausting whirl of final farewells including a big afternoon tea with parents past and present to ensure an appropriate send off on December 11th.
Janet is part of the fabric of the not-forprofit preschool which was founded 35 years ago by a group of residents.
It was never Janet's intention to become a pre-school teacher. Her mother was a preschool teacher and Janet had other ideas when she left school. "I was going to do microbiology but I ended up teaching and I loved it … it was my calling."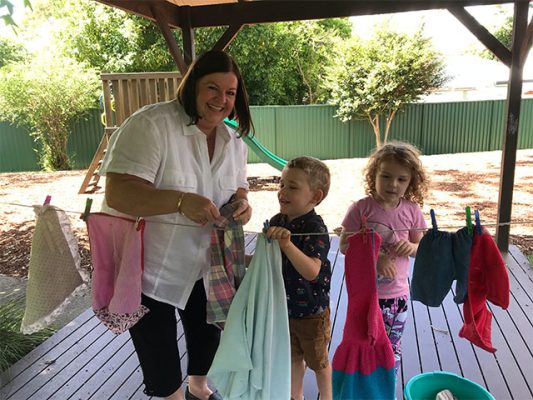 After nearly 40 years educating Preschoolers Janet says she loved that "lightbulb moment" that you see in children's faces when they have worked something out and understand it.
She says when she walked into Cherrybrook Community Pre-school that first day she knew it was the right place for her to be.
"There have been so many changes in the time that I've been here," she says.
One thing that hasn't changed is the bond between staff and parents. "We are here to support the parents and the families, we see families going through tough times and sadness and you are there for them."
She says it will be hard to say goodbye: " I love it as much as I ever did …I'm going to miss this terribly, these children are my children."
She is very happy though that the new Director is someone who knows the school community very well as she has worked there for 28 years, a year longer than Janet.
Julia James has worked in every single area of the preschool, starting off in the kitchen and then studying Early Childhood to move to a teaching role.
"I am very happy that there's going to be continuity," says Janet.
Ciaan and Shelley Badenhorst's four-yearold son Nathan Badenhorst attends Gumnut and 7-year-old Caellum is a former student.
Ciaan said: "Janet is an inspiration to the local community, with her passion and care for children shining through in everything she mpbell and wish her all the very best for the future. Thank you, not only as a local MP, but as a local father." touches at the preschool. We as the Parent Committee thank her for her years of dedicated service and wish her well for the future."
Rachael Discroll said: "It takes a BIG heart to shape little minds, and a BIG heart Janet has. Our girls Jessica and Emma Driscoll were lucky to share in this passion. Both our girls spent a year with Janet at Gumnut Preschool and she helped not only them but myself as a parent become braver, stronger, smarter and loved."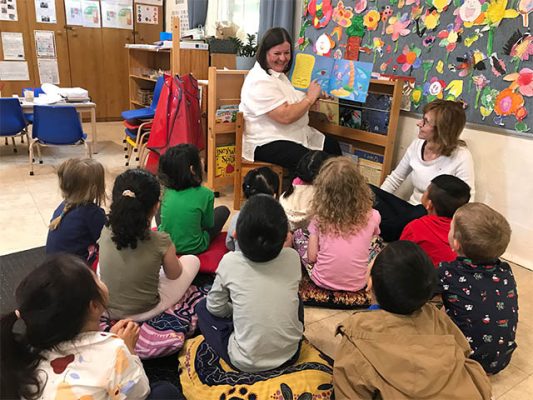 Justin and Cass have sent all three of their children (aged 15 to 5) to Gumnut, spanning 11 years. "Janet is so dedicated to her craft and her belief in the foundations of early childhood education. You know you've got yourself a fantastic preschool when your kids are just as excited to go to preschool as when they see you at the end of the day," said Cass.
"As parents you're always wondering what sort of job you're doing and Janet is such a font of knowledge, she always listened and offered advice and made you feel like you were succeeding even if you were having an off day."
"I know that Julia and the rest of the preschool educators are just as dedicated as she is and that our preschool will continue to thrive on the philosophy and sense of family that Janet instilled in the preschool."
On Thursday (November 16th) NSW Premier Dominic Perrottet spoke about Janet in State Parliament, calling her an unsung hero.
"Recently, I spoke to a mother from Cherrybrook Community Preschool, who described Janet as a person of great warmth and dedication, with unwavering care for every child she met … that sort of character reference explains Janet Campbell better than I ever could. She leaves an immense professional legacy, but her greatest achievement is surely the many young men and women she, and the many wonderful staff at Cherrybrook Community Preschool, have helped mold.
"So, after 27 years, I say thank you to Janet Campbell and wish her all the very best for the future. Thank you, not only as a local MP, but as a local father."[/vc_column_text][/vc_column][/vc_row][vc_row][vc_column][us_image image="71651″][/vc_column][/vc_row]