Daniel Carter lit up the 2023 Australian Open Water Championships with two barnstorming gold medals to power himself and the new Waves Fitness And Aquatic Centre into national recognition.
Daniel won the boys 16 years titles in the 7.5km and 5km Open categories at Busselton, WA, last month while braving stingers and a very strong field. He was third and fourth overall in the 7.5km and 5km races, which featured 17-year-olds.
Thanks to his exceptional results, Daniel made the Swimming Australia Open Water Flippers Squad. His delighted Waves coach Josh Stapley said National Flippers Squad members are recognised by Swimming Australia as being capable of transitioning into the senior national team and achieving podium performances within four to six years. "It is a huge achievement for Daniel to make an Australian team," Stapley said.
It sealed Daniel's form at the previous Australian Open Water Championships – he claimed silver in the 15 years 5km in 2022, and gold in the 14 years 5km in 2021. Daniel also won two titles at the NSW Open Water Championships.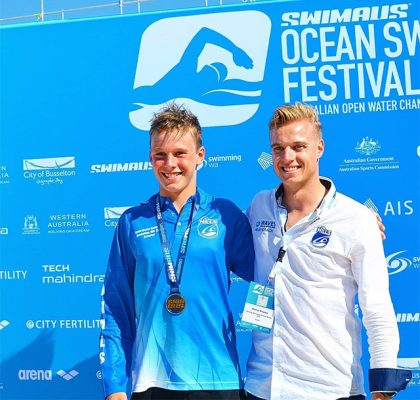 His team-mate Charlotte Brown captured bronze in the girls 18 years 5km event, having taken silver at the gruelling 10km at the NSW Open Water event. In the 2021 Championships, Charlotte took silver in the 16 years 5km.
Stapley said this was a fantastic effort from his Gold Squad, which is the top tier team at Waves. "With Waves only opening in September 2022, this is a completely new squad, with athletes coming from right across The Hills to train out our new state-of-the-art facility," Stapley said.
"All my (nine) swimmers did a great job and that's put down to their love and dedication to their sport. They are in the pool at 6am every morning and training hard, and they are achieving everything that they have dreamed of," Stapley added.
The Hills Shire Mayor Dr Peter Gangemi said: "Hills residents are so proud of our Gold Squad for their amazing results. This is a testament to our squad swimmers … as well as our hard-working head swim coach Josh Stapley and the world class facilities at our revitalised Waves Fitness and Aquatic Centre in Baulkham Hills."
At the NSW Senior Age Championships, Waves won one gold, three silvers, and two bronze medals The highly-regarded Callum Thomas won gold in the boys 18 years 50m backstroke and bronze in the 100m backstroke.
Caleb Yago grabbed silver in the 50m and 100 butterfly events (boys 16 years), while Daniel Carter grabbed silver in the 1500m freestyle (boys 15yrs). Ruben Langley won bronze in the 1500m freestyle (boys 15yrs).
"The major event my squad is training for is the Swimming Australia National Age and National Open Championships in April," Stapley said. "Daniel, Callum, and Caleb will go into the event ranked very highly and will be chasing medals, while others be looking at qualifying for finals."
Stapley said some will then focus on the Australian Trials in June to select the team for the World Championships: "Callum Thomas is shaping as a major up-and-comer in the 20m backstroke and will look to make himself known to the Australian Team at the Trials."