Thanks paramedics who treated her
Young Bella Vista cycling ace Hannah Hussein survived a very serious crash while competing in the NSW Junior Metro, Country and Open Road Championships in August. She suffered a grade three concussion, fractured eye socket, perforated bowel and torn ligaments in a shoulder.
The 12-year-old Norwest Christian College student was racing at 45km/hour at the Sutherland track when she clipped the back wheel of a rival and was thrown off her bike. The impact was so hard that she was unconscious for around seven minutes. Hannah's older sister Charlotte quickly rang triple zero, while Mum Jessica rushed to her side, fearing the worst as she heard gurgling sounds from her injured daughter. Hannah's face was so swollen she couldn't even open her mouth.
Hannah does not remember anything and only woke up in hospital a few days later. After seven days in hospital and almost 10 weeks in recovery and rehabilitation, brave Hannah has almost made a fully recovery. Hannah is even thinking of returning to competitive cycling, but will take it easy because she still feels tender and tired.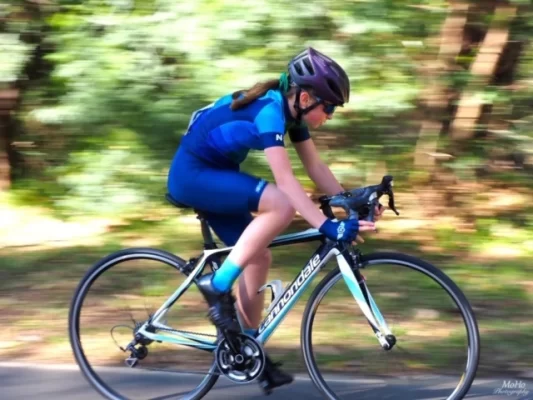 Last week, she was able to thank the paramedics who were the first to treat her. She had an emotional reunion with NSW Ambulance paramedics Emil Nawiesniak, and Harry Ryan. "I just want to say thank you guys for helping," Hannah told them.
A few months ago, Hannah, her sister Charlotte, Erin Prince, and Charlotte O' Shaghanessy won the 2022 NSW Under 15 Junior Team Trial cycling gold medal under the Neo Cycling Club banner. Her Mum said the paramedics were amazing. "The paramedics were the calm voice of reason during a very scary time," Jessica said. "They handled it so well and so professionally with such care, that it actually gave me great peace of mind, and calmed me right down. I felt like I could really trust them with my daughter's life."
Emily, an Intensive care paramedic, said: "Hannah was in a lot of pain, so I provided her with some pain relief and I just kept on talking to her for the whole journey (to the hospital).
"It can be quite overwhelming (attending traumatic injury jobs) especially with the young age that Hannah was, you think about what happens from here and what her life's going to be like. It's extremely rare and we're very fortunate to be able to meet Hannah and see how well she's doing."
Harry, who has been on the job for a year, said: "It's very rare that we get to see the end result of our patient's treatment. I haven't done a lot of trauma jobs, so one of the biggest parts was knowing I was backed up by our ICP, Emily. "Just to know the impact we had was such a positive one, it's very humbling."